Among Shanghai's Skyscrapers, an Evolving Art Scene Takes Form
SEP 9TH, 2015 12:47 AM
Shanghai has enjoyed a flourishing art scene this past decade, comfortably level with its more established Beijing counterpart. In recent years, not one but four new art fairs have met with success, while the burgeoning arts district, West Bund, opened two large-scale private museums in 2014 alone.

Cutting through the density of downtown Shanghai, the Huangpu River simultaneously unites and divides what can best be described as a city of two halves. To the east lies the glitzy, jagged silhouette of the iconic Lujiazui skyline. West of the river is Puxi, the historic center of Shanghai where, tucked between tree-lined boulevards and traditional low-level housing, some of the city's best-known rituals play out: games of Mahjong amidst clouds of cigarette smoke and the din of caged crickets, surrounded by enticing smells from shared kitchens.

Ahead of three major art fairs—
West Bund Art & Design
,
Photo Shanghai
, and Art in the City—each opening their doors to their second editions respectively, we map a historically trade-focused city increasingly placing art at the fore. Below, Leo Xu of Leo Xu Projects; Donna Chai, managing director of Art in the City and Art021; Katy Roseland, co-founder of art collective and space Basement 6; and Magda Danysz, founder of Gallery Magda Danysz walk us to their favorite art destinations, restaurants, and watering holes on a tour of Shanghai's key districts.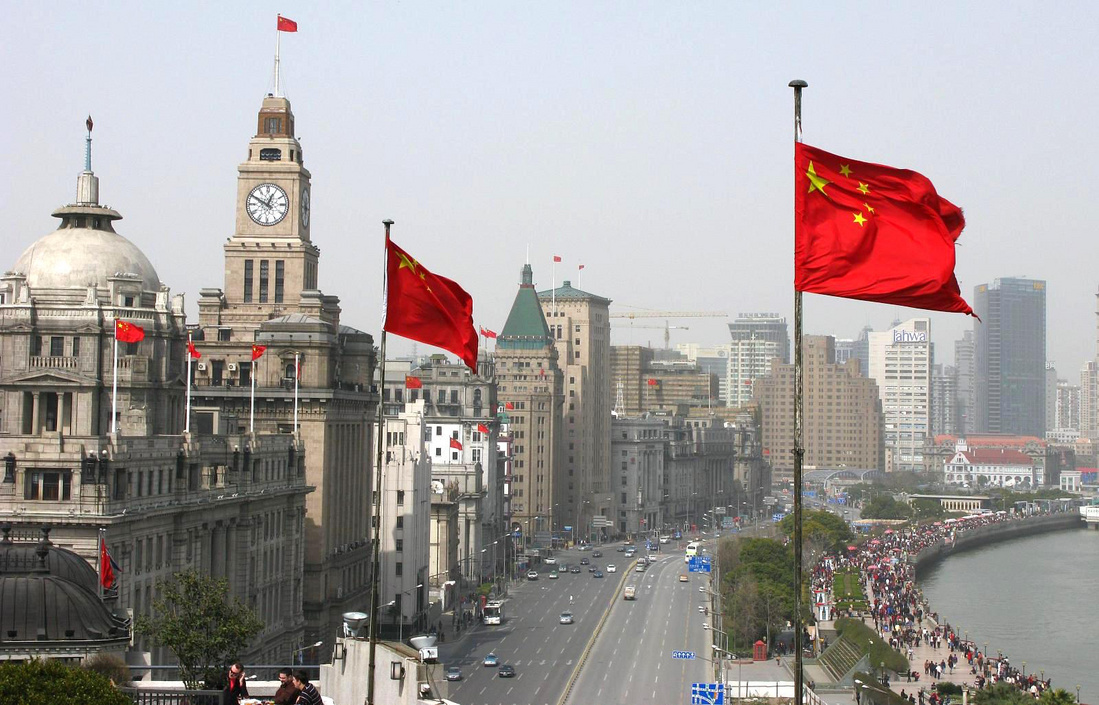 Shanghai's most prestigious riverside address, the Bund is home to gorgeous colonial buildings that once housed the numerous banks and trading houses of Shanghai's various foreign powers. Many of these grand structures are now luxury hotels, designer stores, and Shanghai's best restaurants. Others have been repurposed for more artistic endeavours, including the
Rockbund Art Museum
, which is set within 1930s Art Deco architecture that was once the location of the Royal Asiatic Society. An inaugural exhibition in 2010 curated by none other than
Cai Guo-Qiang
set a precedent for excellence that has been reinforced by solo shows from
Zhang Huan
,
Mark Bradford
,
Ugo Rondinone
, and a retrospective of the late
Chen Zhen
, open now through October. Later this year, the private museum will host the second edition of Hugo Boss's bi-annual Asia Art Award.
A short walk away is BANK, housed inside the magnificent, crumbling 1920s Bank Union Building. The gallery has forged a reputation for cutting-edge exhibitions by emerging artists, most recently
Hito Steyerl
and
Chen Tianzhou
. "It's a very open platform," says Roseland. "They manage to reach the high art masses and also be very current."
There are fabulous offerings for food and drink in the area too, with restaurants from a who's who of international chefs. Chai recommends Mercato, an Italian eatery by Jean-Georges Vongerichten. For pizza with a view, it's hard to beat. Paul Pairet's Mr & Mrs Bund remains a perennial favorite (its late-night menus are an ideal post-vernissage treat). For pre-dinner drinks, The Nest comes recommended or, for budget boozing, Roseland describes the bar and views atop Fuzhou Road's otherwise grungy Captain's Hostel as "the Bund's best-kept secret."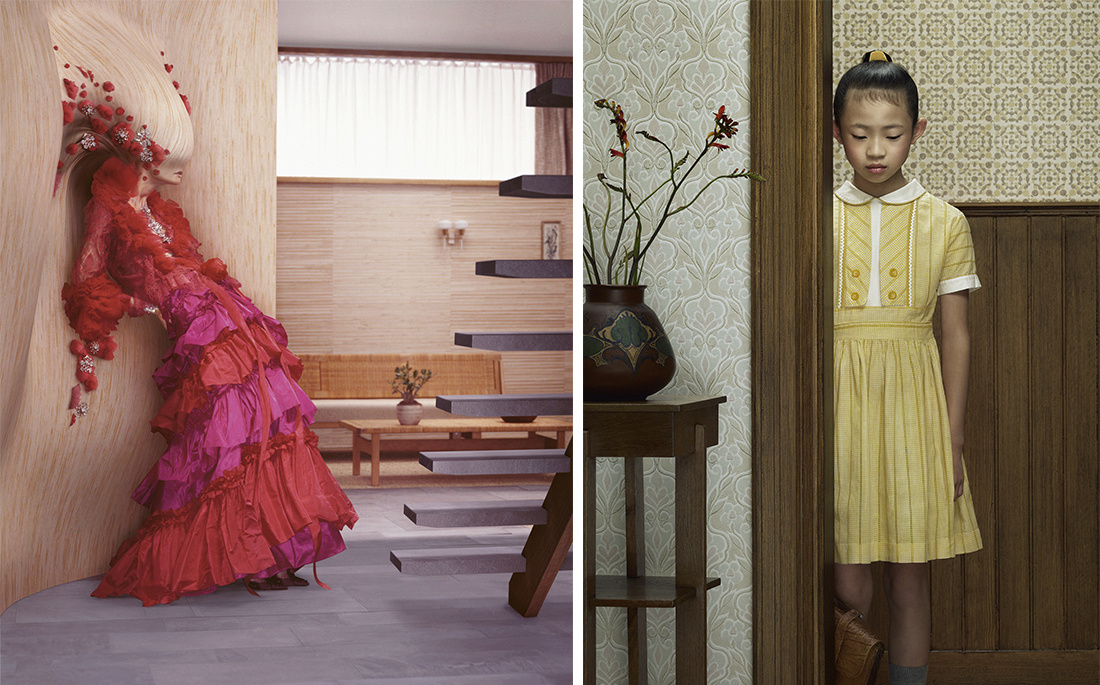 Further north but still close to the river, Gallery Magda Danysz is one of three spots around the world run by the eponymous curator. The space has forged a particularly strong reputation for street art, with recent years seeing solos by
JR
,
Vhils
, and
Shepard Fairey
. Through the end October, visit what promises to be a stunning retrospective of photographer
Erwin Olaf
.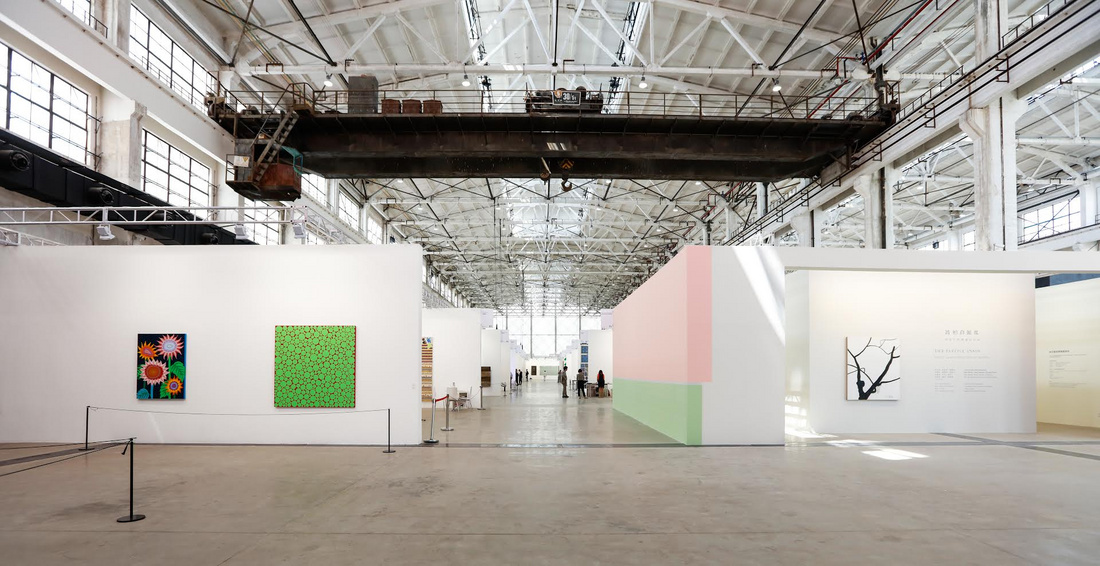 Shanghai's newest arts district, West Bund is one to watch. The jewel in the local Xuhui government's crown, it boasts some of the city's best private museums and, come 2017, will also house DreamWorks' "DreamCenter." Museums are situated along a pleasant, recently renovated riverside walkway, complete with a free climbing wall and running track.
The power-collector couple Liu Yiqian and Wang Wei kicked off the site's cultural conversion in 2014 with their Long Museum. Housed inside striking new architecture, the collection is bolstered by an impressive roster of contemporary international artists. Long's sister museum is in Pudong: smaller in size, it's located in a former shopping center.
Nearby
YUZ Museum
also comes courtesy of a private collector: Chinese-Indonesian Budi Tek. Occupying a converted airplane hangar, the gargantuan space is known for fittingly enormous contemporary works. Until the end of 2015, that includes
Random International
's famous installation,
Rain Room
. Next spring, the museum will host a major exhibition of
Giacometti
sculptures.
Adjacent is Shanghai Center of Photography (SCoP), opened in 2015 by Hong Kong-born photographer Liu Heung Shing and British art historian Karen Smith. Next door, West Bund Art Center welcomes the second edition of
West Bund Art & Design Fair
later this month. Oozing credibility thanks to artist and director Zhou Tiehai, this year's fair includes Shanghai's BANK and
Pearl Lam
; Beijing's Magician Space and
Pace
; as well as international names such as
Hauser & Wirth
and
White Cube
. Further boosting the area's cultural credentials,
ShanghART
gallery will launch its newest West Bund outpost this month.
Home of the Shanghai Biennale, the state-owned Power Station of Art is a taxi ride away. Having hosted exhibitions from the Andy Warhol Museum and
Centre Pompidou
, the museum has recently turned its attention to architecture with shows by
Thomas Heatherwick
,
Renzo Piano
, and
Yona Friedman
.
This pleasant area was once a settlement for French colonialists, and one of its distinctive features is its leafy canopy of plane trees. A stroll through the district reveals a charming mishmash of architectural styles, from Hungarian-Slovak architect László Hudec's 1924 Normandie Apartments to Xinle Road's former Russian Orthodox church to the 1930s Art Deco Cathay Theater.

Shanghai-born Xu's gallery,
Leo Xu Projects
, is located in this neighborhood. Situated in a three-story lane house, the gallery is known for its focus on established and emerging artists. For a post-exhibition pick-me-up, Roseland recommends 1984 Bookstore. In addition to great coffee and an interesting selection of art books and zines (not to mention several disinterested cats), its garden is as peaceful as Shanghai gets. For a tasty weekend brunch or intimate bistro dinner, Mr Willis is right around the corner.
A leisurely bike ride away (this district is best seen on two wheels!) is relative newcomer
Arario Gallery
. With a focus on contemporary art from Asia, its exhibitions have featured the likes of
Miao Xiaochun
,
Subodh Gupta
, and, on show through November 1, Shanghai-born artist
Ni Youyu
.
Tucked away down a quiet lane off Yueyang Road is
James Cohan
's Shanghai outpost. Under a beautifully ornately ceiling, the Art Deco space hosts a balance of international names like
Sue Williams
and
Richard Long
and established Chinese talents. On show now through October, that includes Beijing painter
Li Shan
's solo.
Basement 6 is not far off. Co-founded by Roseland in 2013, the collective hosts exhibitions and events in underground digs right next to the vinyl emporium Uptown Records Store and the screen printing studio IdleBeats. Roseland explains, "It's a social project—it's more about what people bring into the space rather than what we give." As well as weekly "Drink and Draw" sessions, workshops, and an online artists' residency, the hangout shows young Chinese and foreign artists and attracts a diverse crowd less interested in conventional galleries and more about grassroots collaboration.

In terms of its culinary options, the neighborhood spans everything from gourmet to street food. For homestyle Shanghai cuisine, try Chun on Jinxian Road. There's no menu at this teeny-tiny restaurant; rather, they serve whatever's in season. If that's too much of a leap of faith, go for Rui Fu Yuan's Shanghainese fare—the yellow croaker soup with pork wontons is a must-order!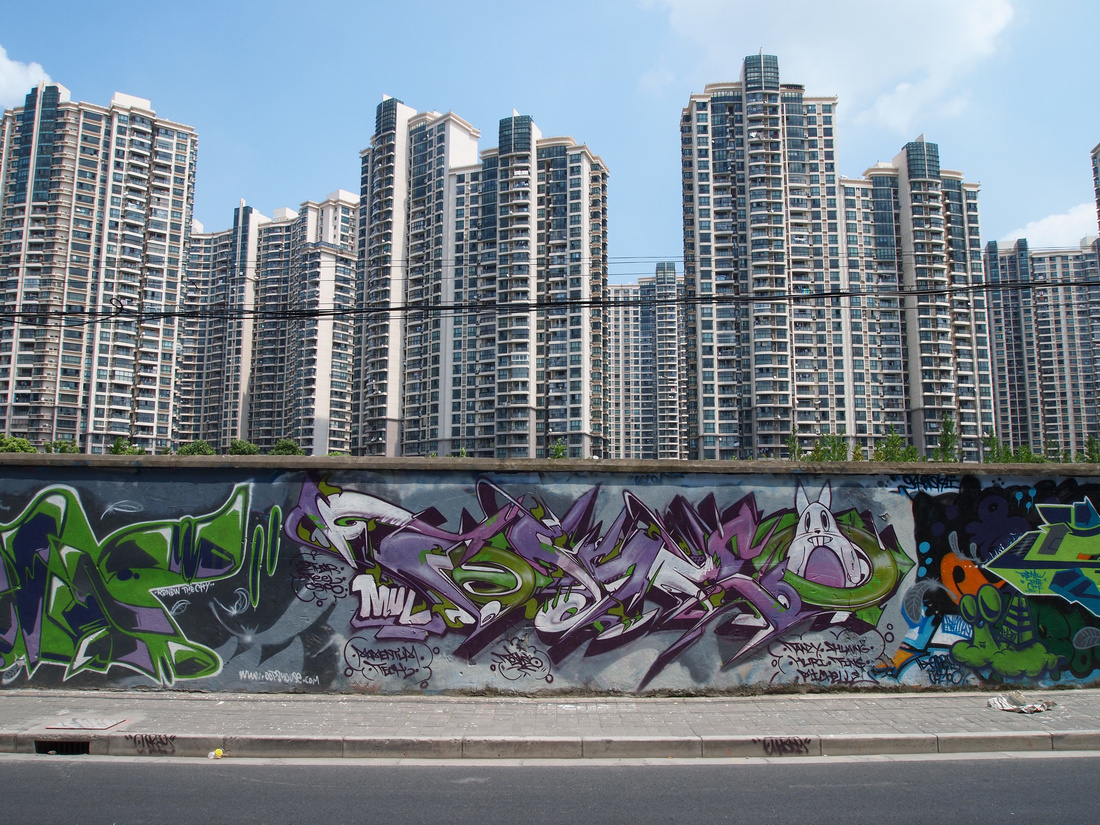 "Compared to what it was, it's less important now," says Chai of M50, a well-known creative space inside a former textiles factory on Moganshan Road. "That's not to say that the galleries still there aren't important; there's just more in other locations. Still, if you go for an afternoon, there's lots to see." Recent years have seen many of the concrete warren's spaces turned into offices, or else stand vacant. Nevertheless, several gems remain, among them Chronus Art Center, a nonprofit focusing on new media art. "They host interesting, well-curated collaborations, and their lecture series is fantastic," says Roseland.
Next door,
ShanghART
is one of the city's oldest—and arguably best—galleries. Having held its very first exhibition in a local hotel in 1996, the gallery has gone on to open in Beijing, Singapore, and most recently, a further space at Shanghai's West Bund. Artists include stalwarts of the local scene such as
BIRDHEAD
,
Sun Xun
,
Jiang Pengyi
, and currently on show,
Zhang Enli
.
Younger galleries like
Aike-Dellarco
and
Antenna Space
are also worth checking out, as is M97 Gallery: a slick, polished photography gallery further down Moganshan Road whose artists include
Michael Wolf
, Robert van der Hilst, and Yang Yi.
All glittering skyscrapers and brisk throngs of business people, Pudong is more finance than fine art. Despite offering little in the way of galleries, east of the river nonetheless boasts its share of museums. It's hard not to be impressed by the sheer size of China Art Museum, installed within the former national pavilion of the Shanghai World Expo 2010. At 63-meters-high, the so-called Oriental Crown now features five floors of classical, revolutionary, modern, and contemporary Chinese art. Some distance from downtown, the museum conveniently boasts its very own Metro stop on Line 8.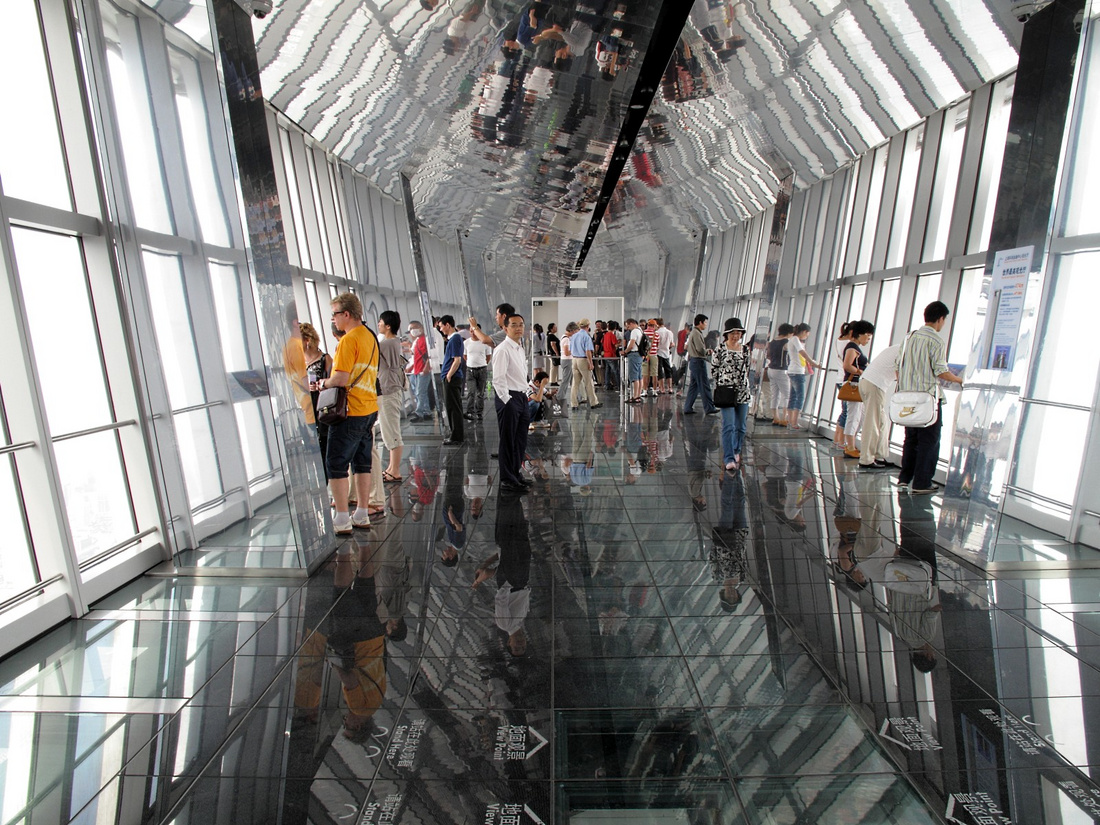 While here, visit the glass-floored observation deck of the Shanghai World Financial Center. At 474 meters above the ground, it's not for the faint-hearted. For a less hair-raising experience, head next door to Jin Mao tower and take the elevator to the 87th floor where Grand Hyatt's Cloud 9 bar offers spectacular views of the city and tasty cocktails.
Jing'An, Xintiandi + People's Square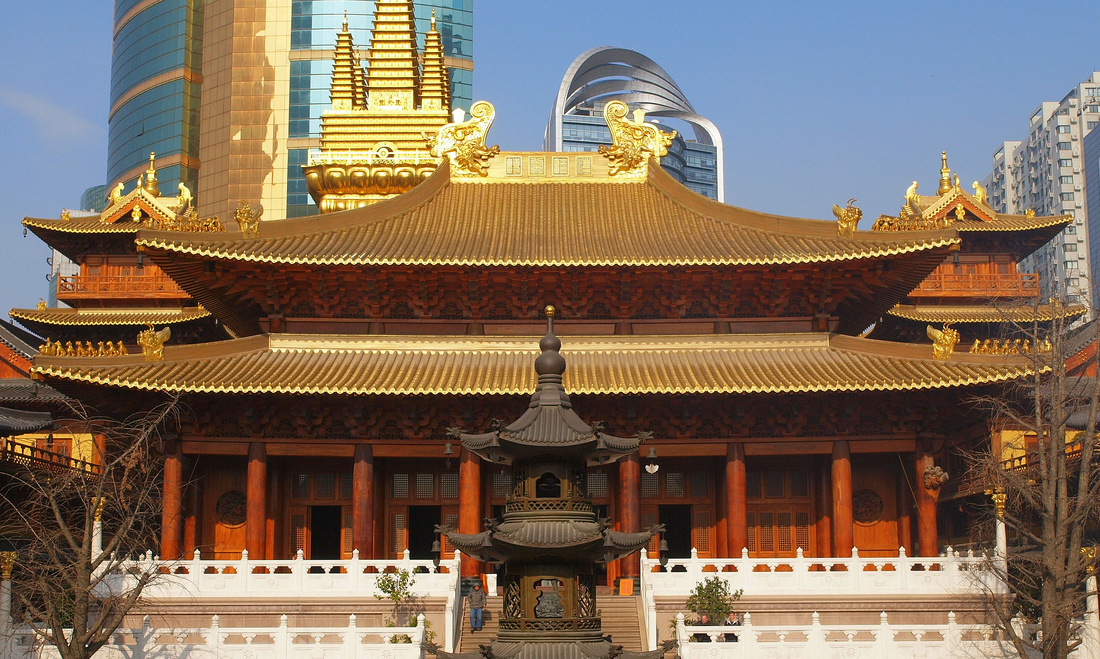 Light on galleries, Jing'an nonetheless boasts worthwhile sightseeing options: the newly relocated Natural History Museum, for example, or the district's eponymous and downright glitzy Buddhist temple. "The contrast between its golden towers and Nanjing Road's luxury shopping sums up Shanghai very well," said Danysz.
From here, hop on Metro Line 2 to People's Square. A public park with a lily pond, rockery, and manicured lawns, it's also home to MoCA and a new experimental space, MoCA Pavilion. "It's interactive, fun, and right in the middle of the city," explains Chai. "Every time I go there's something different. It's made of glass, so it's kind of like an art lightbox in the city." The oddly shaped Shanghai Museum is at the park's most westerly point. With free entry for visitors, its collection spans Chinese bronzes, ceramics, calligraphy, furniture, jades, ancient coins, paintings, and seals.
A short walk away, the art shopping mall K11, opened in 2013, is slated to expand to 11 cities nationwide within the next five years. In addition to artworks from the K11 Art Foundation's collection displayed throughout, a basement-level exhibition space hosts regular lectures and shows, which have included
Gary Baseman
,
Cheng Ran
, and
Chen Wei
. Later this year K11 will present an inevitable blockbuster from the Gala-Salvador Dalí Foundation. Fully integrated into the city's art ecology, the mall will also host Art in the City later this month.
—Frances Arnold
Lead photo by Chiu Ho-yang via flickr.