Helmut Newton New Exhibition

Helmut Newton Foundation

newsletter@helmut-newton-foundation.org

através de dme3ds1.com
Desativar para mensagens em: inglês
HELMUT NEWTON FOUNDATION
HOLLYWOOD
ARNOLD, CORBIJN, DICORCIA, DRESSEL, HOYNINGEN-HUENE, HURRELL, LIEBCHEN, LOUISE, MORATH, NEWTON, SCHAPIRO, SHULMAN, SPRINGS, SULTAN
3 June – 20 November 2022
On 2 June 2022, the Helmut Newton Foundation in Berlin will open its new exhibition "HOLLYWOOD" featuring works by Eve Arnold, Anton Corbijn, Philip-Lorca diCorcia, Michael Dressel, George Hoyningen-Huene, Jens Liebchen, Ruth Harriet Louise, Inge Morath, Helmut Newton, Steve Schapiro, Julius Shulman, Alice Springs, and Larry Sultan. Photographs by George Hurrell and publications by Annie Leibovitz and Ed Ruscha will also be on view in glass displays.

Helmut Newton, Sigourney Weaver at Warner Bros, Burbank 1983 © Helmut Newton Foundation
Helmut Newton is always the point of departure and reference for group exhibitions like this one. His photographic works often include references to film and even quote specific scenes, such as by Alfred Hitchcock or the French Nouvelle Vague. Starting in the 1960s, some of his fashion photographs seem cinematic in their staging, while from the 1970s onward, some of his portraits look like artful film stills. In the 1980s and '90s, Newton photographed actors at the Cannes Film Festival and fashion on the Croisette.

Steve Schapiro, Jack Nicholson as Jake Gittes in "Chinatown" by Roman Polanski, Los Angeles 1974 © Steve Schapiro
In addition to those images by Newton, this new group exhibition features 13 photographers and their interpretations of Hollywood, presented as usual in larger groups of works. The main exhibition space is dedicated to the medium of film and the Hollywood system. It features portraits of actors from Hollywood's early years by Ruth Harriet Louise and George Hoyningen-Huene, as well as later film stills and on-set photographs by Steve Schapiro and several Magnum photographers, including Eve Arnold and Inge Morath, who documented the 1960 production of the John Huston film, Misfits.

Larry Sultan, Sharon Wild, 2001, from the series "The Valley" ® The Estate of Larry Sultan, courtesy Galerie Thomas Zander, Cologne
A glass display presents an extensive portfolio of photographs by George Hurrell that Helmut Newton owned, along with some later works by Hurrell, who replaced Ruth Harriet Louise in 1930 as the most important Hollywood portraitist for the major film studios. Elsewhere in the same room hang five large-format color photographs from Larry Sultan's series The Valley, a study of the porn film industry near Hollywood – the largest of its kind and, in a sense, the equally lucrative dark side of the dazzling world of glamour. Gracing the walls of another part of the space are five large, minimalistic black-and-white portraits shot by Anton Corbijn in Los Angeles, from Clint Eastwood to Tom Waits. A further display case holds Annie Leibovitz's famous Hollywood portraits, which she shoots every year for Vanity Fair. The Oscar winners depicted in panoramic group portraits appear on gatefold covers of the magazine.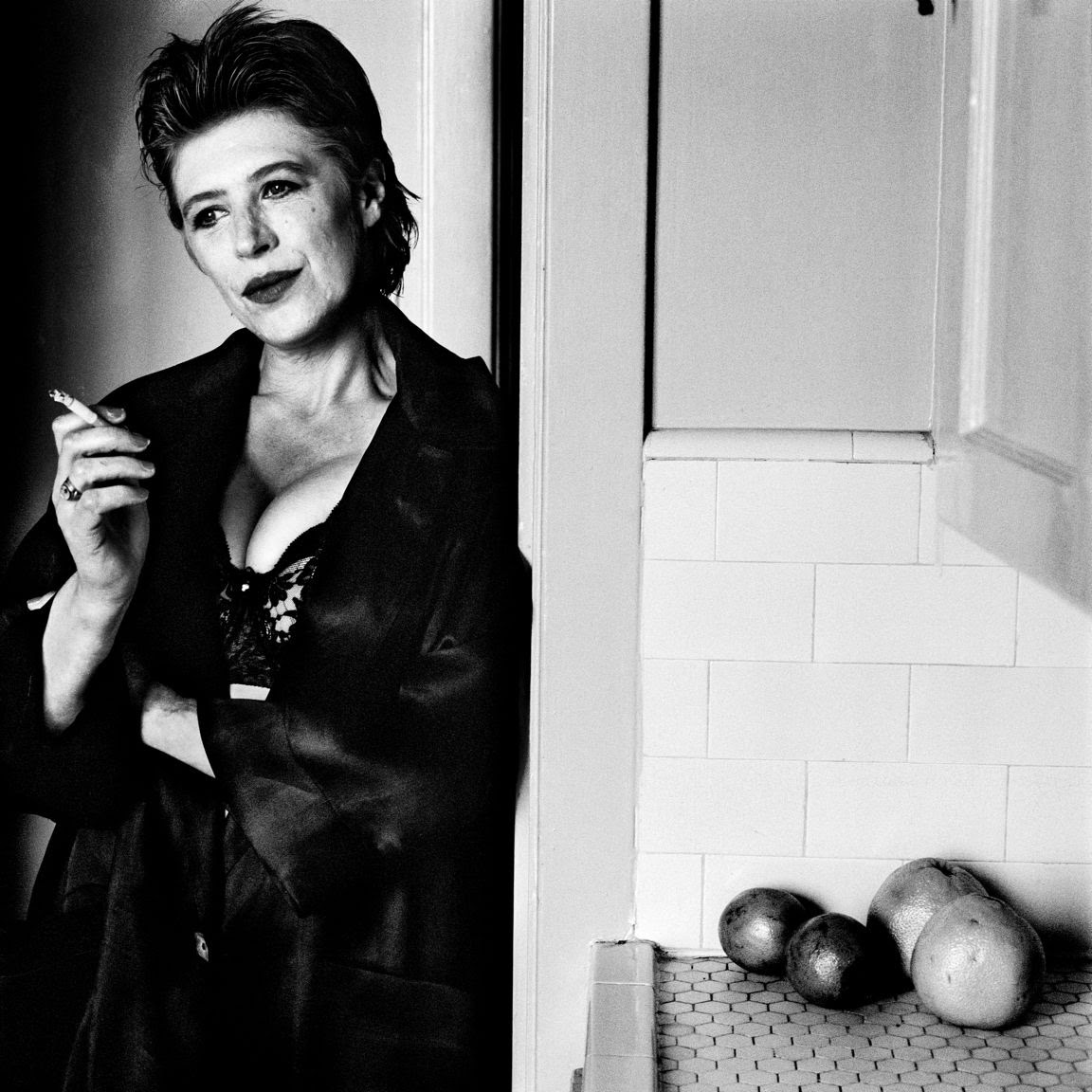 Anton Corbijn, Marianne Faithfull, Los Angeles 1990 © Anton Corbijn
As a whole, this room traces a historical arc over an entire century – from the early star portraits of the 1920s, which set a precedent, to present-day Hollywood, and from vintage prints of various sizes to magazine reproductions.

Philip-Lorca diCorcia, David Holstein, 30 years old, Elnora, Indiana, $25, 1990-92 © Philip-Lorca diCorcia, Courtesy the artist, David Zwirner and Sprüth Magers
In the back exhibition room, the focus is on the city of Los Angeles. Julius Shulman's architectural photographs showcase legendary mansions in Hollywood Hills and Beverly Hills. These architectural icons of L.A. modernism were often the home of film stars and producers and occasionally served as film sets. Appearing in sharp contrast are Michael Dressel's striking, sometimes unsparing portraits of the failed and disillusioned and even Hollywood tourists. These fleeting encounters are captivating in their spontaneity and situational composition. Jens Liebchen began work on his color series L.A. Crossing in 2010 as part of the "La Brea Matrix" project initiated by Markus Schaden, aiming to trace the footsteps of Steven Shore. From the window of his rental car, Liebchen photographed what at first glance seems to be unspectacular street scenes. Viewed as a series, however, the images unfold into a compassionate sociological study. On the opposite wall is Philip-Lorca diCorcia's Hustler series from the 1990s, portraits of male prostitutes around Santa Monica Boulevard. Each photograph's title includes the sitter's name, place of origin, and hourly rate – the latter in this case referring to the fee for the photograph. Flipped open in the central display case, Ed Ruscha's legendary 1966 accordion-fold leporello, Every Building at the Sunset Strip provides an architectural and social backdrop for the other photographers' later images of the same sites and street corners, which hang on the walls in this exhibition space.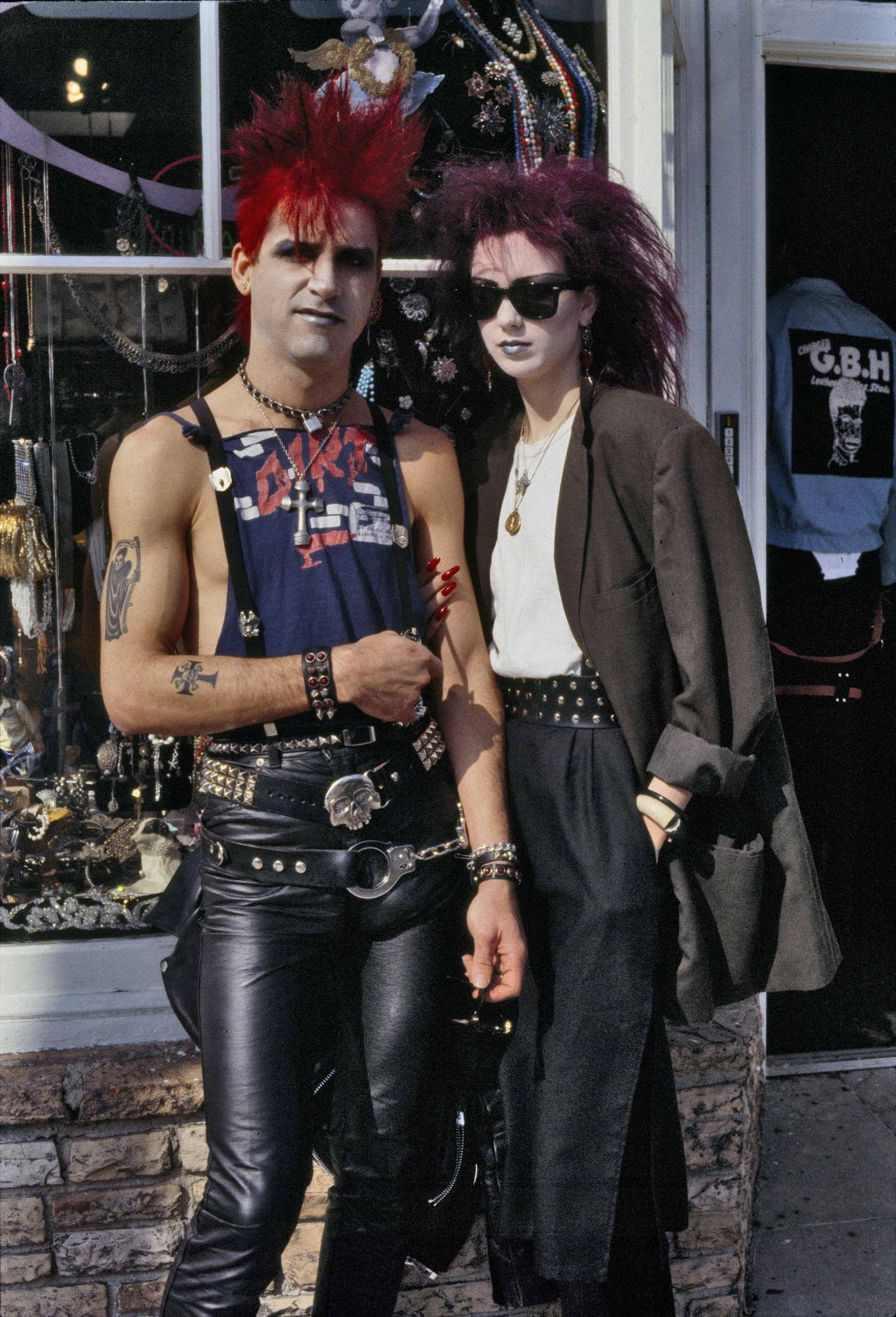 Alice Springs, Melrose Avenue, Los Angeles 1984 © Helmut Newton Foundation
A different kind of street photography is on view in June's Room, which Alice Springs shot on Melrose Avenue in West Hollywood in 1984. The images capture the music-based counterculture of punks and mods and other style-conscious individualists who transformed the streets into a stage as if life were a casting show.

Inge Morath, Marilyn Monroe and Arthur Miller in their hotel room after a day of shooting "The Misfits", Reno, Nevada, 1960 © Inge Morath/Magnum Photos
With these images, the group exhibition traces the allure of Hollywood that continues to draw many people to Los Angeles in search of work in the film industry. We glimpse both the official and private lives of stars, the villas of the rich and beautiful, film-loving fans, as well as numerous secondary motifs, such as film props in the studios. On the one hand, the exhibition looks back upon 100 years of Hollywood through these select works. At the same time, its perspective is utterly contemporary, paying homage to the slowly fading splendor of an entire era. Cinematographic storytelling is continued here with photographic means.

Gerhard Kassner, Timothée Chalamet, Berlinale 13. Februar 2017 © Gerhard Kassner
In the project room of the Helmut Newton Foundation, on the ground floor of the Museum of Photography, a special exhibition will open parallel to "HOLLYWOOD". Gerhard Kassner was commissioned by the Berlinale management between 2003 and 2019 to take an official portrait of the participating actors, directors, jurors, producers or other important people from the film business. The result is an incomparable artistic inventory, indeed a historical document of national and international film history. Almost 100 Hollywood stars portrayed by Kassner are now being presented in various image formats in the project room, some of them for the first time ever. This additional portrait exhibition also en passant links the twin cities of Berlin and Los Angeles as well as the two, now somewhat unequal, film industries in Babelsberg and Hollywood.
HELMUT NEWTON FOUNDATION
Museum of Photography
Jebensstrasse 2 / 10623 Berlin
info@helmut-newton-foundation.org
www.helmut-newton-foundation.org
Phone +49 30 3186 4825
OPENING HOURS
Tue, Wed, Fri, Sat, Sun, 11 a.m. – 7 p.m.;
Thursday 11 a.m. – 8 p.m., closed on Mondays
ENTRANCE FEE
10 € / 5 € concessions
To be removed from this mailing list, please click here to unsubcribe.