How High Art Helped Make Paris's Gallery Scene Hip Again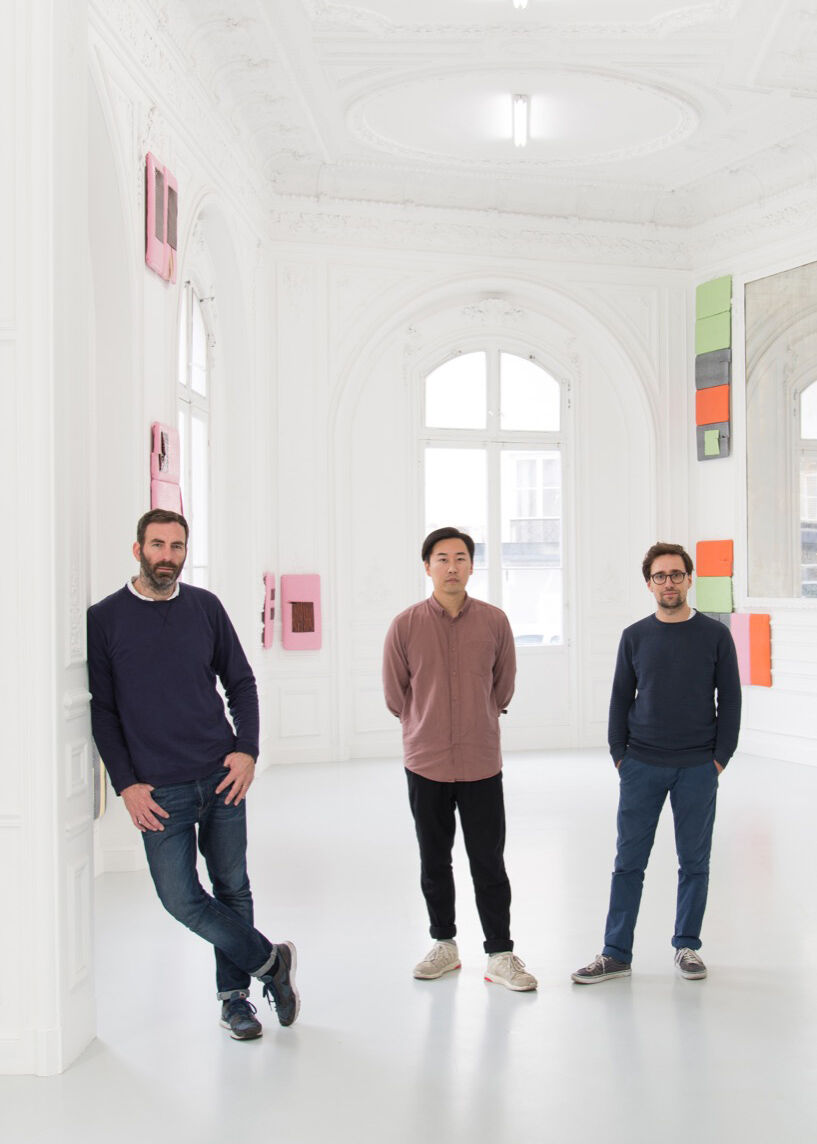 Philippe Joppin, Jason Hwang, Romain Chenais in High Art. Courtesy of High Art.
Meanwhile, High Art, the 5-year-old gallery that graduated to the International Contemporary Art Fair (FIAC) this year after three years at the secondary fair Paris Internationale (which it also co-founded), left Belleville a year ago, choosing instead seedy Pigalle, a stone's throw from a dozen sex shops, late-night cabarets, and a bar called Dirty Dick.
"It's almost like you have to make two different shows for each one," Jacoby said.
"Because my work is relational to its site, its installation sometimes incorporates a lighting effect or a modification of the actual architecture," she said. "High Art has always been open to these more elaborate constructions around my work."
She also described them as dogged in their search for new talent.
"Philippe, Jason, and Romain were interested in my work very early on, at a time when I'd only shown in New York, in non-commercial project spaces or apartment galleries," she said.
Interior view of High Art. Courtesy of High Art.
Pentti Monkkonen, V.S.O.P, 2017. Courtesy of High Art.
After Jacoby took me through the show, Hwang and Chenais bounded into the gallery fresh from the Grand Palais, where they had been putting the finishing touches on a FIAC booth that includes work by Jacoby alongside Hooper Schneider,
They moved into the space a year ago after searching all over the city for months. Prior to that, they had staged shows in Belleville, first with a project space called Shanaynay, which started in 2011. They originally gravitated toward the 20th arrondissement because, well, they didn't have any money.
"It was just pragmatics, because we started the gallery with nothing," Hwang said. "We didn't have backers, we didn't have anything, we just pooled money together and opened a small gallery."
The programming switched to a more formal gallery setting in 2014, when High Art opened its first space in Belleville. (Shanaynay is still going strong under other directors.) In 2016, they decided to expand, and ultimately chose to look at other parts of the city. Hwang said that they were having conversations with other gallery owners in Belleville as they weighed the decision to leave.
"We didn't want to be gentrifiers," Hwang said. "When we opened the gallery with Shanaynay, the idea of a gallery being a gentrifier didn't exist at that point. People were still being hipster gallery owners. That was a model."
They looked to the Marais, but it felt like it was at "the tail end of the gentrification," as Hwang put it. They found a space in Pigalle in a building where George Bizet is said to have written the 1875 opera Carmen, and decided to convert only half to a gallery—half would become the white cube, and half would be the raw remnants of Paris's avant-garde culture in the 1800s.
"When we saw this space, it felt so natural—but it also felt really difficult," Hwang said. "One of the ideas that we always talked about was that the space is an obstacle, physically and conceptually. In our experience, when artists have an obstacle they tend to respond better."
A year after the new space opened, collectors arrived at the Grand Palais for FIAC on Wednesday and saw High Art in the context of the global mega-galleries who come to Paris to show there, such as
Hauser & Wirth
,
David Zwirner
, and
Pace
.
"I think we were just ready to expand our audience," Hwang said. "FIAC was opening us up to something else. That's how we saw it and how our artists saw it, too."
But they have nothing but respect for Paris Internationale, which they co-founded in 2015 with Galerie Antoine Levi, Galerie Crèvecoeur,
Gregor Staiger
, and Galerie Sultana—and Guillaume Sultana, that gallery's owner, said that there was no bad blood.
"They are still founders because they founded it with us," he said in the Sultana booth at Paris Internationale, which was showing work by
He added that High Art had reached a level that was beyond what the smaller, funkier fair could offer.
"They wanted to be able to show more expensive artists and more established artists," Sultana said. "In a way, it's kind of a normal evolution for them."
Hwang doesn't see Paris Internationale as a secondary fair to FIAC, but rather a fair catering to a specific clientele. Hwang also praised the nonprofit nature of the fair, which is operated on a volunteer basis by the galleries who co-founded it.
"The amount of work you have to put into Paris Internationale is intense," Hwang said. "They're running the entire fair."
And as far as the gallery's place in the storied Paris art scene, Hwang said he was simply humbled that, seven years removed from a scrappy project space, it could be spoken of among the city's best galleries, who consider its owners as peers. Unlike some young dealers in Paris who grew up around the market due to their collector parents, the High Art founders had no financial ties to the art world, no connections that they could work, no leg up.
"We started with nothing—we don't come from art, any of us; our parents weren't collectors, none of us knew anybody," he said. "When me and Romain started Shanaynay, we had to write a four-page text on a show to get artists to show at Shanaynay, because a text is how we got artists to show with us. They were like, 'Who the hell are you guys?'"
Hwang paused for a second to look around the room, at Jacoby's brightly colored sculptures popping against the white-washed ornate designs of the salon room.
"And now we have a conversation with Chantal Crousel every once in a while," Hwang said. "And with Air de Paris. I geek out on it sometimes."
Nate Freeman is Artsy's Senior Reporter.