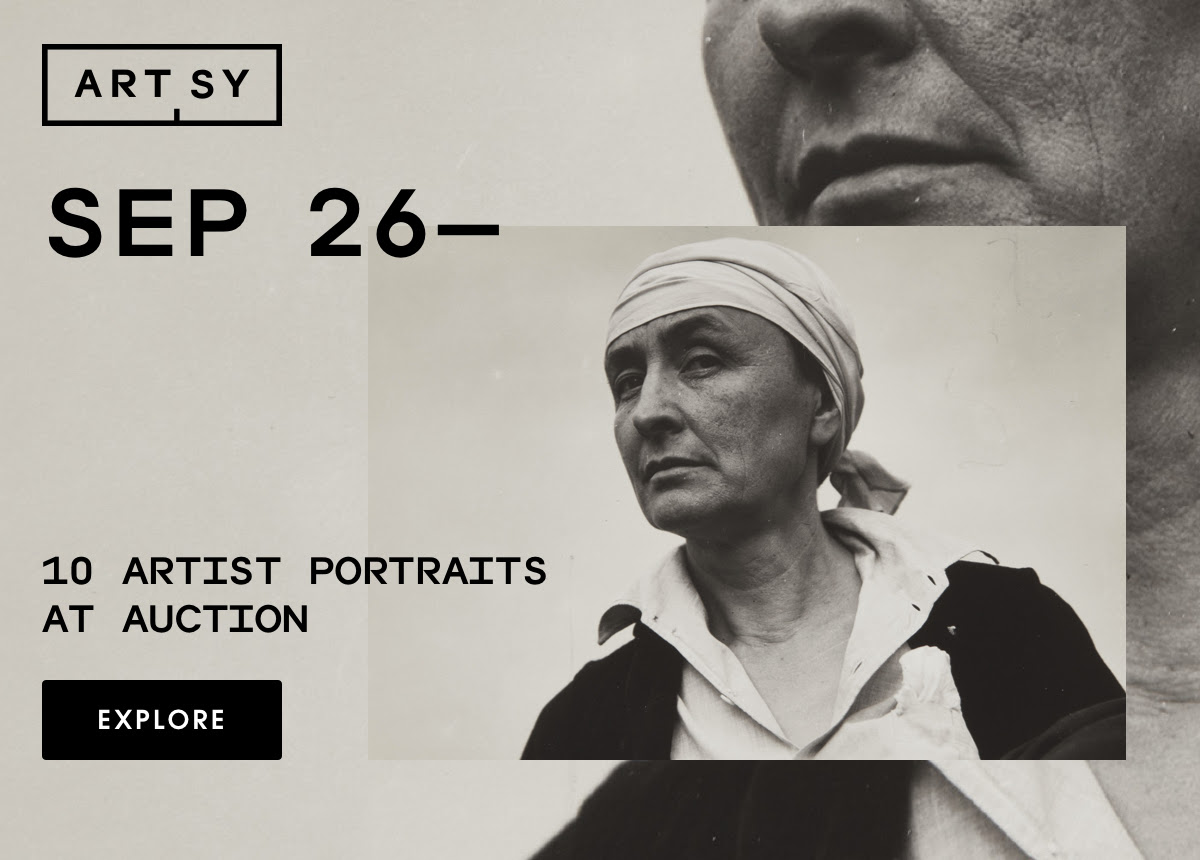 10 Artist Portraits to Collect at Auction
Photographers often take portraits of fellow artists, providing glimpses into their personal relationships and everyday lives. From Georgia O'Keeffe to Pablo Picasso, discover 10 photographs of art history's greatest icons, as well as the stories behind these lasting snapshots.
These photographs are all available at auction this week—and you can
bid
on your favorites by clicking on the images below.
From 1917 to 1937, Alfred Stieglitz photographed over 300 portraits of the painter Georgia O'Keeffe, tracking their relationship from friends to lovers to husband and wife.
Estimated value: $10,000–15,000
This famous photograph captures John Lennon, embracing his partner and Fluxus artist Yoko Ono, just hours before his untimely death.
Estimated value: $20,000–30,000
"At the Mudd Club mistakes could pass as exper­i­ments," Andy Warhol
once said
about the Tribeca club, pictured here, that served as the second home to many icons of the1970s art scene.
Estimated value: $2,200
Taken in 1974, this photograph captures Francis Bacon and Lucian Freud at a pivotal point in their relationship, as their friendship transitioned towards rivalry.
Estimated value: $2,000–3,000
In 1993, Thomas Struth photographed his former professor, the painter Gerhard Richter, who decades earlier had encouraged Struth to leave painting to study photography with the legendary duo
Bernd and Hilla Becher
.
Estimated value: $50,000–70,000
Irving Penn is known for his austere portraits, and this close-up of the monocle-wearing Abstract Expressionist painter is no exception.
Estimated value: $15,000–25,000
Lee Miller was Man Ray's beloved muse, studio assistant, lover, and friend—but she was also an artist in her own right and hid her own photographs in the attic of her farmhouse, which were discovered and published after her death.
Estimated value: $80,000–120,000
Arnold Newman is known for his revealing portraits of 20th-century icons, such as Pablo Picasso, Marilyn Monroe, and Edward Hopper, in their homes and studios.
Estimated value: $9,000
In 1952, Cy Twombly and Robert Rauschenberg journeyed to Europe together and photographed their travels—coincidentally, they visited Rome at the same time Roman Holiday was being filmed there.
Estimated value: $10,000–15,000
Henri Cartier-Bresson provides an inside look into Henri Matisse's practice, documenting the artist holding a dove in one hand and sketching with the other.
Estimated value: $6,000–8,000