How Lisbon's Dazzling Tile Traditions Continue to Thrive Today
Cortiço & Netos. Photo by Pedro Sadio Photography. Courtesy of Cortiço & Netos.
I like to think that Lisbon was given the nickname "Queen of the Sea" because its tile-covered buildings resemble the precious stones that decorate crowns. Under the Portuguese sun, the painted ceramic squares glisten like gems, set across the city.
Walking through the Portuguese capital, nestled between the Tagus River and the Atlantic, you'll find tiled façades on nearly every street. They blanket former palaces with depictions of palm fronds and strapping Portuguese heroes, as well as church walls with biblical scenes, rendered in deep blue brushstrokes. My personal favorites are less grand, but just as mesmerizing: tall apartment buildings veiled with kaleidoscopic patterns and windows tucked inside alleyways, framed by depictions of orange blossoms.
On a trip to Portugal this past summer, I was struck by the ubiquity and diversity of azulejos, as these tiles are called, and went on something of a pilgrimage to understand the origins of the tradition—and how contemporary artists, from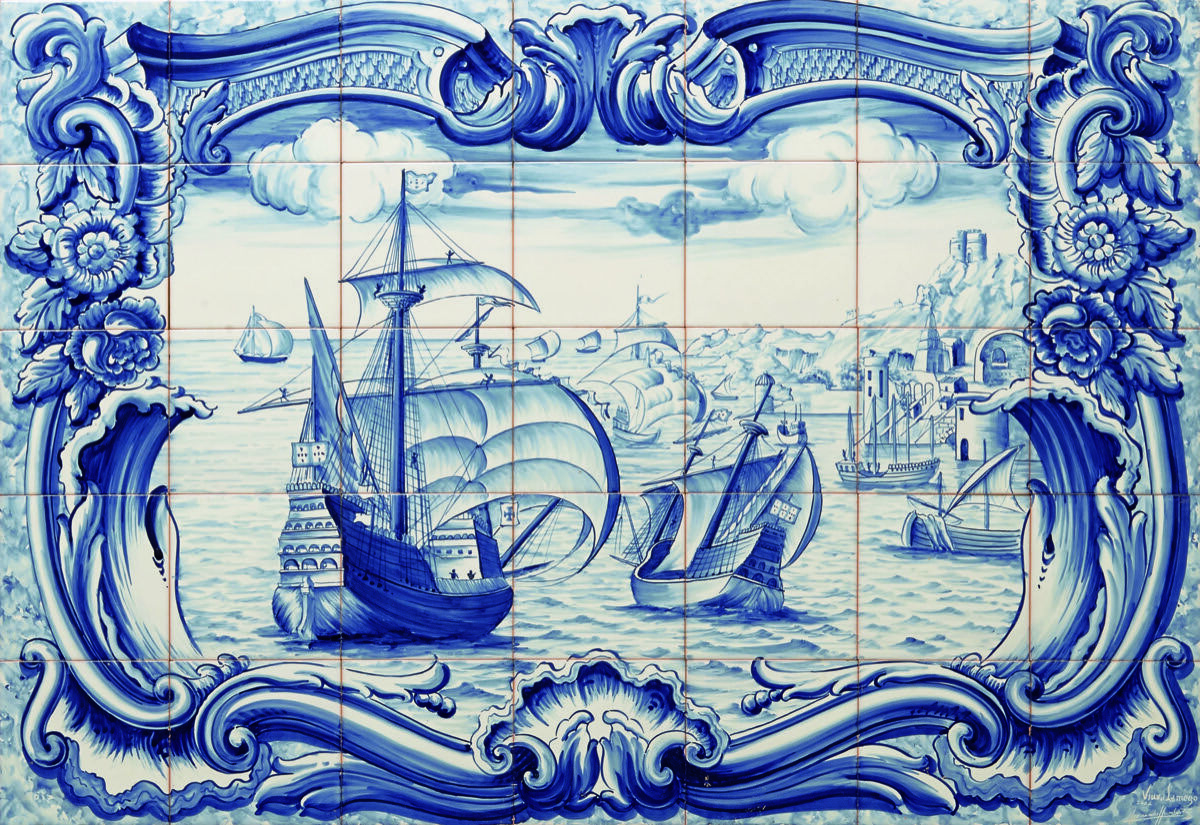 Handmade panels by Viúva Lamego. Courtesy of Viúva Lamego.
The journey began with a trip to Lisbon's National Tile Museum (Museu Nacional do Azulejo). Located within a former convent, it houses a treasure trove of the painted ceramic pieces, produced between the 15th century and the present. The earliest examples are simple: geometric bits of clay, fired and glazed in a single hue, like white, blue, and forest green. Denizens of towns across Portugal used tiles like these as pavement—a technique they adopted from the Moors, with whom they'd traded and battled since the 8th century. The term "azulejos" hints at the art form's North African origins: It's an adaptation of the Arabic word alzuleycha, meaning "small polished stone."
It wasn't until the 16th century, though, that more intricate tiles became prevalent across Portugal, and moved from streets onto the façades of buildings—often covering them completely. "Many other countries have tile art, where it is used as decoration like a tapestry," the museum's director, Maria Antónia Pinto de Matos, has
said
. "But in Portugal, it became a part of the building. The decorative tiles are a construction material as well as decoration."
Over time, the Portuguese gave painted tiles their own stylistic spin, too. Unlike their Muslim counterparts in North Africa, the Portuguese were primarily Christian—and thus didn't feel obligated to adhere to the teachings of the Quran, which discourages the portrayal of living things in art. In turn, a wide range of styles, from geometric patterns to figurative and narrative scenes, began to spread across Portugal's increasingly tile-flanked streets. (Portuguese artisans had also adopted the use of tin oxide from their Italian peers; the substance allowed them to paint directly onto the tiles' surfaces, without the hues sliding into one another, which could happen with glazes.)
Inside the Viúva Lamego workshop. Photo by Homem Cardoso. Courtesy of Viúva Lamego.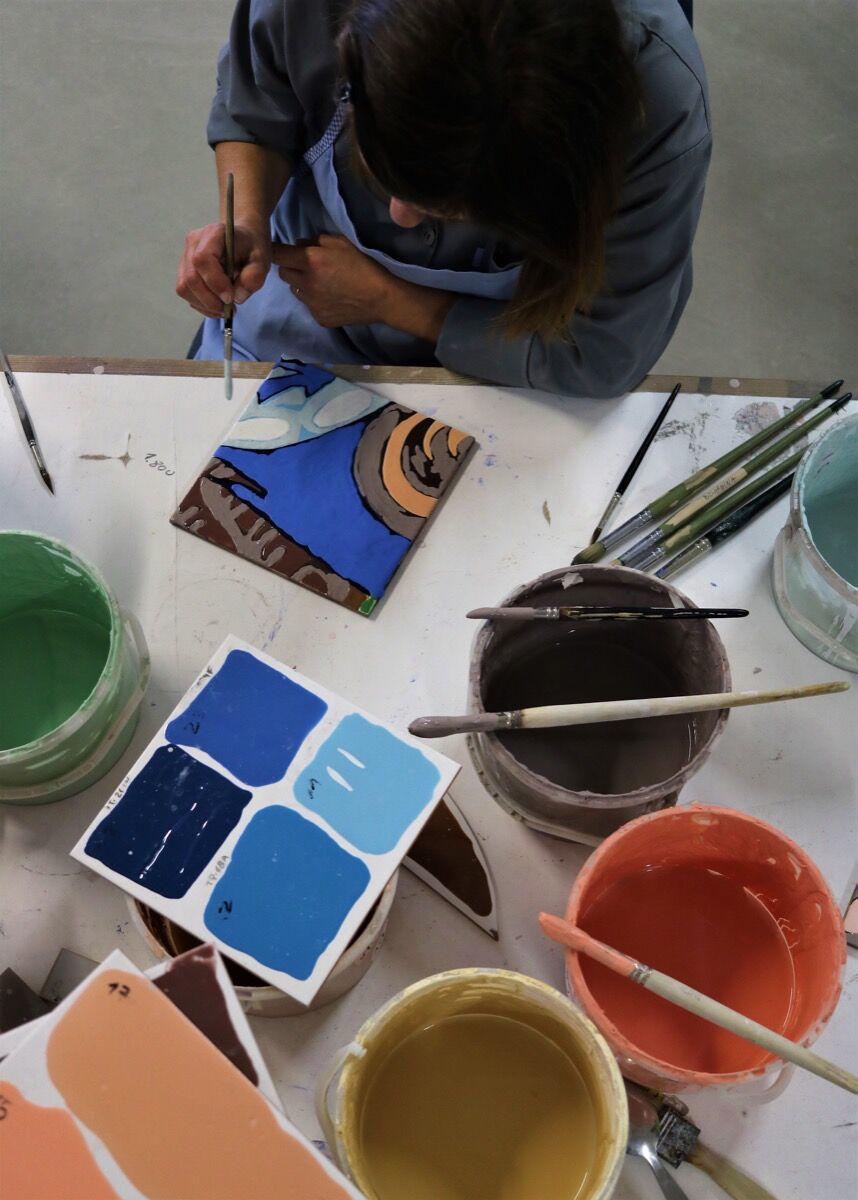 Inside the Viúva Lamego workshop. Photo by Homem Cardoso. Courtesy of Viúva Lamego.
Soon, churches and wealthy residents were commissioning opulent, colorful façades and interiors. In the aristocracy's hands, tiles became canvases for
Within the museum, the convent's chapel, dating to the 16th century, has been preserved. One especially enchanting wall hosts three different tiled patterns: an area filled with green and white rectangles borders a lattice of flower buds and a grid of blue starbursts, ensconced in golden arabesques.
After leaving the museum, I noticed tiles everywhere. Some were yellowing and cracked, clearly relics from long ago; others appeared to be from the 1950s and '60s, painted with chartreuse flower-power daisies. One park was bordered by a distinctly contemporary mural—the work of Paris-based street artist André Saraiva. On a long wall of white tiles, he'd painted a cartoonish world, where cities as far flung as Lisbon, New York, Paris, and Uppsala existed within the space of a single city block, all connected by slim bodies of water and short bridges.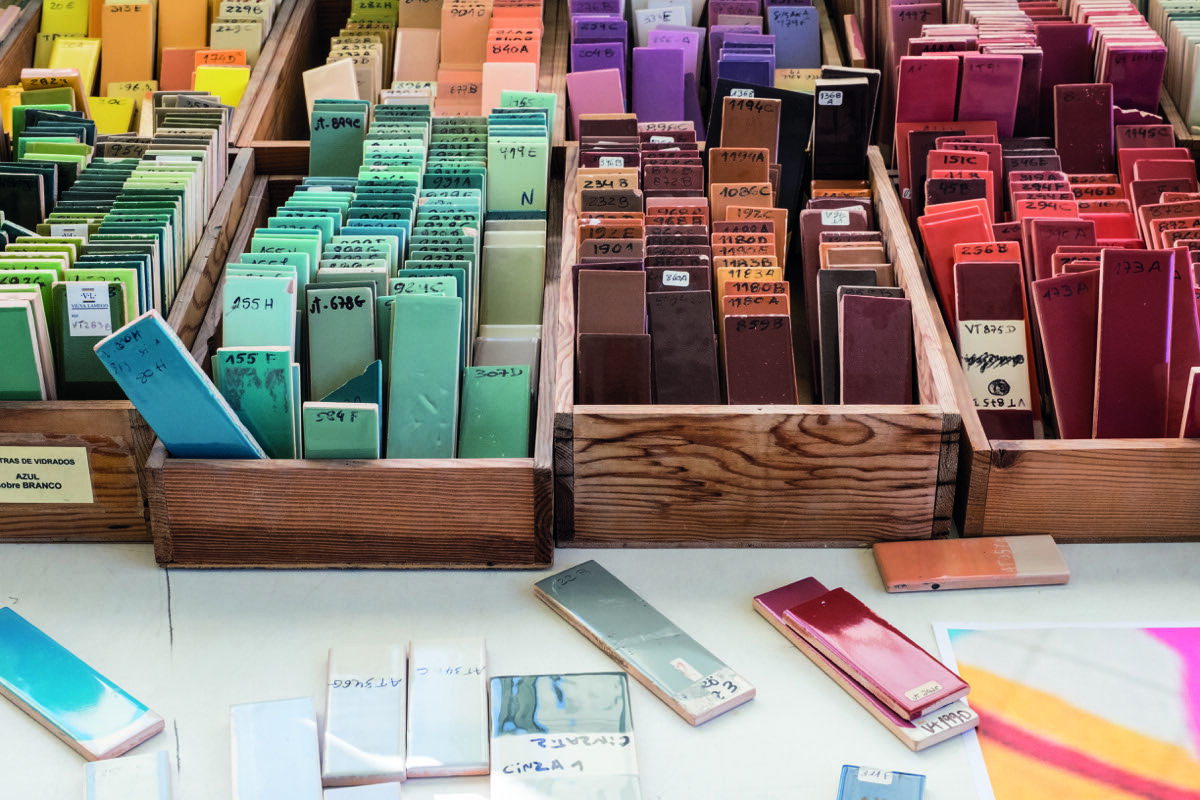 Inside the Viúva Lamego workshop. Photo by Homem Cardoso. Courtesy of Viúva Lamego.
When I arrived at my next stop, the tile workshop Viúva Lamego, I learned that Saraiva created the piece within its walls. Viúva Lamego was one of the first tile factories to emerge in the 19th century (previously, individual tile makers worked independently). By bringing a range of artisans together, they were able to produce more work. As a result, they helped make painted tiles available to the everyman—not just the rich.
António da Costa Lamego founded the operation in 1849, initially producing utilitarian red clay objects and white tiles. His earliest clients were mostly Brazilians, who'd realized the benefits of covering their homes in traditional Portuguese tile (it helped protect them from the sweltering climate). As the 19th century approached, however, the factory witnessed a growing demand for decorative tiles. Soon, they were employing artisans to design a variety of motifs, from angular to organic to figurative. In turn, Viúva Lamego offered handmade tiles to a wide range of clients, with differing tastes and budgets.
Viúva Lamego's operations today are not all that different. While the original building now acts as the company's showroom, its sprawling workspace (located on the outskirts of Lisbon) still buzzes with artists painting all manner of ceramic slabs. Large work tables are covered in grids of white tiles, waiting for paint and glaze. They're surrounded by countless stacks of color swatches, tools for carving raw clay, jars of paint, drying racks, and kilns.
Joana Vasconcelos, Trafaria Praia, for the Portugal Pavilion at the 55th International Art Exhibition, 2013. Photo by Bruno Portela (Cortesia Unidade Infinita Projectos). Courtesy of Viúva Lamego.
When I spoke with Sofia Sampaio, Viúva Lamego's marketing director, she emphasized the importance of the company's artisans—and the fine artists they routinely collaborate with. The workshop employs about 15 full-time tile makers, who regularly work with outside artists and architects. Viúva Lamego embarked on these partnerships in the mid-1900s, when tiles "started to capture the imagination of the creative community," Sampaio explained.
Indeed, in a time when Salazar's oppressive dictatorship ruled the country, artists were drawn to the democratic nature of tiles. In the 1950s, avant-garde painter Maria Keil realized that tiles could be a vehicle through which to bring her work into the public realm. She was also drawn to the material because of its ties to Portuguese history. Ceramic tiles had transitioned from an art form available only to elites into a decorative element used by many. Through a series of tiled murals installed in streets and subway stations, Keil transformed the medium yet again—into visual art that was accessible to all.
Keil produced her work with the help of Viúva Lamego's artisans. The installations played with traditional geometric motifs by distorting them and pushing patterns beyond the borders of individual tiles. "She was one of the first artists to explore the limits of tile standardization," Sampaio explained. In other words, it was a radical act.
Since then, Viúva Lamego has collaborated with with esteemed artists ranging from
Rem Koolhaas, Casa da Música, 2005. Courtesy of Viúva Lamego.
Anahory Almeida, Pitaria, Lisboa, Portugal, 2017. Photo by Rodrigo Cardoso. Courtesy of Viúva Lamego.
For artists who've worked with tile, the appeal of the medium is wide ranging. Sometimes, they're interested in playing with the social, cultural, and socioeconomic history of tile painting. Others are intrigued by the architectural or utilitarian uses of azulejos, or their shape-shifting formal qualities.
For filmmaker Ricardo Cortiço, the appeal of the material has everything to do with family, home, and memory. Cortiço is one of four brothers who own and operate Cortiço e Netos, a company started by their grandfather in the 1960s to preserve and sell painted tiles that had been discontinued or discarded from factories where they were mass produced. Their Lisbon shop is an archive of tiles that went out of favor in the 1970s, '80s, and '90s. But today, they're seen as beautiful, novel, or even moving to most who pass through.
"The majority of the Portuguese customers, or passersby, always recognize one or two patterns at the store," Cortiço told me. "It usually triggers old memories of their families' houses. There is something about the tiles that makes people very emotional."
Cortiço's brother, Pedro, is an artist who's recently taken to using tile from Cortiço e Netos as the basis for large-scale mosaic wall pieces. For him, the material is deeply personal—but also universal. Like photographs, they represent memories. And when found long after they were created, they're like jewels, meant to be collected and preserved.
Alexxa Gotthardt is a Staff Writer at Artsy.
Correction: In a previous version of this article, a statement regarding the relationship between Salazar's dictatorship and artists working with tile was misattributed to Sofia Sampaio. The text has been changed to clarify that this was not said by Sampaio.
TEFAF New York Fall 2018
October 27-31, Park Avenue Armory