https://www.phillips.com/article/72807457/the-prompt-tia-pelos-by-juli-delgado-lopera-paula-rego
The Prompt: Tía Pelos by Juli Delgado Lopera
In this installment of The Prompt, Juli Delgado Lopera takes Paula Rego's 'The Aunt (Nada)' back to its literary origins.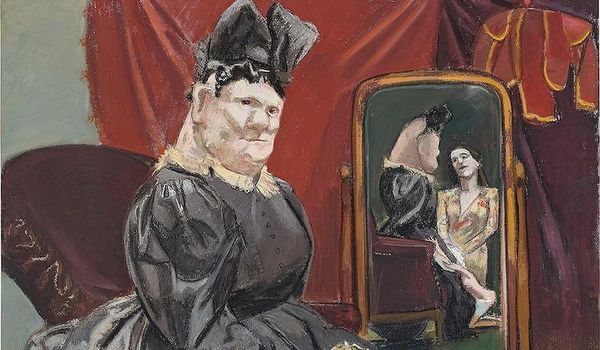 Paula Rego, The Aunt (Nada) (detail), 2006. Estimate £800,000 — 1,200,000.
Paula Rego has frequently revisited the literary and cultural past, fusing her aesthetic vision with rich memories. Her work, The Aunt (Nada), draws on a scene from Nada, an acclaimed 1945 novel by Carmen Laforet that Rego read in the 2000s. In this installment of our ongoing series, The Prompt, Juli Delgado Lopera takes Rego's The Aunt (Nada) back to its literary origins. Delgado Lopera considers both the artwork and Nada, in a haunting fiction response to two masterpieces, created decades apart.
---
Written by Juli Delgado Lopera
Mira niña—the baldness really took on when the second carajito kid died and by then people were already calling her La Pelona a.k.a Tía Pelos. She wouldn't eat, not even the rosconcitos y arepitas she so much loved. Every day I'd cook the huevitos and chocolate like clockwork, arriving right at onces time, ready for tea. Tía venga, I'd say, but she wouldn't move from the window. Mummified. Playing the same Chavela Vargas CD on a loop. Only two yellowing fingers trembling, forever holding a stick of Marlboro ashes that never dropped. Draped in her sadness. A little too much that darkness. A layer of grey film imposing itself on the entire apartment. The sofa, the blue carpet we brought from Cartagena, even the painting of abuela all seem to crumble every time Tía Pelos exhaled. Pues eventually I found a drawer in her closet bursting with ants and roaches and when I opened it what do you think I found? Stale arepas now fungi. Eggs oozing green. A feast for the cockroaches I tried so hard to kill every day. A whole ecosystem of tristeza growing there. She hid it in the bottom drawer exactly like she hid her pain. Closed shut tight and stinky. A pain that reeked. A sadness that emanated an odor of puss soil gasoline. A sadness that had crawled parasitic into her bones, making it impossible for her to stand up. When I confronted her about it you know what she said? Ay mija, let the roaches be. Imagínate tú. This is the same woman who sprayed Lysol on her shoes upon entering the house, stacking Fabuloso and Pine Sol like bread. Pero—óyeme—it doesn't end there. Homegirl didn't want the room cleaned. Her exact words: No cleaning, stop with the pendejada. Waving me off. The layering grime comforting. The maggots a newly found company. The dust and spiders her new BFFs.
I would have very much appreciated some wailing, some screaming, some crucifix waving. Like she used to. When the husband died Tía Pelos broke an entire room in the apartment. Her very own furniture massacre. She sent me to fetch a couple of matronas, paid them a few pesos, handed them a hammer and machete and with those thin lips pointed to the husband's room clapping twice. Off the women went to destroy the remnants of Tío. I will forever remember the disconcerting look in their eyes like who is this bitch? But, also, the opportunity. Who doesn't want to machete a room of old chairs, books, and liquor? Who doesn't want all the rage of life to spill and destroy? I was jealous of the women. I wanted to join them, but Tía stopped me short. You're too young move aside, she said. As if. When the banging wasn't enough, she too joined the violent pachanga of destruction. See here: Big-boned Tía in full black grief realness remangándose, pulling up her black lace skirt, lifting the full-body mirror smashing it against the wall. Bam! bam! Shimmering silver raining. A cascade of sharp glitter leaving thin traces of blood on her ankles. And always a cigarette dangling off her lips, stained dark red at the edges.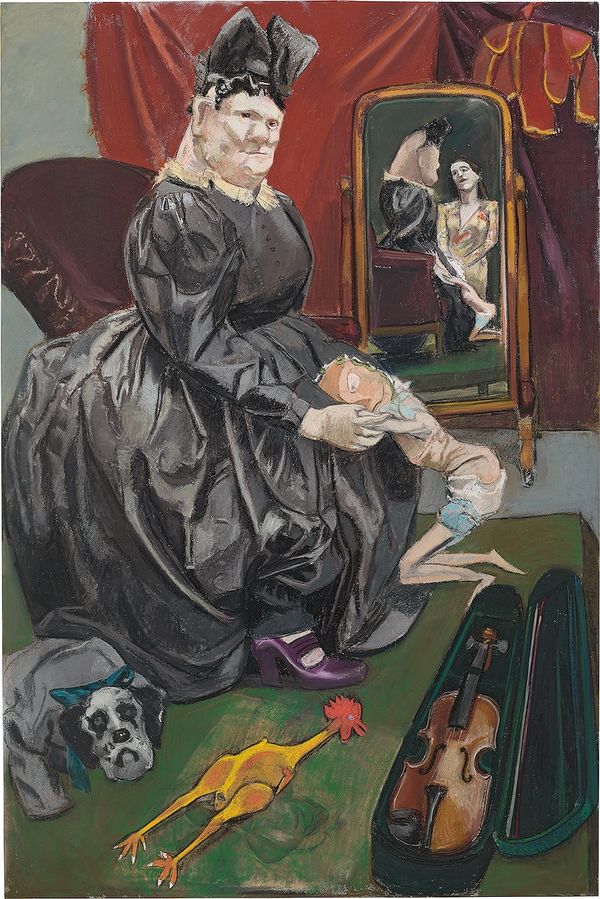 Paula Rego

,

The Aunt (Nada)

(detail), 2006. Estimate £800,000 — 1,200,000.

Y es que you did not know Tía Pelos. Before The Darkness entered our lives the son y ton that was that ass meaneándolo, shimming shoulders to the latest merengue de moda. The matrona and head bitch of our household. Directing the maids and the rest of the matriarchy crew. Pointing with the finger, with the mouth. Everyone forced to bow to the power of her tongue and sass. A real mother of the house that cut every mosquita muerta with a stare. Tía didn't even need to say a word to make shit happen around here: it was all in her eyes. Bam! The caterpillar eyebrows. Bam! The glaring. Bam! The soft closing of the lids when she just about had it with you, you lazy sinvergüenza. The impeccable casita de cristal that was this apartment. This was all before everyone died— the husband, the first kid, the second kid— before the sadness started clinging to her like a second skin making everyone around us disappear and now it is Tía Pelos and yours truly perched on this miserable corner apartment like forgotten porcelain dolls. The real marking of time is her hair. The only marking of time is her hair. We're in a circular loop of pelos.

In her youth Tía Pelos wore a mane of curls braided to the side. Most of the photographs have been burned by her fury, teared apart by the roaring darkness that every few years explodes with yet another tragedy that pushes Tía into a deeper abysm of grief, but I managed to save one or two. In black and white she parades herself down a busy street, leather gloves in each hand, purple heels, a puff of hair surely soaked in hairspray overtaking half of the picture frame. A true señorita.

When the morgue called about the first kid she almost swallowed her tongue. After a few months small moons appeared on her head. When the second kid died, I fed her a punta de Ensure for an entire year. Vanilla Ensure, Chocolate Ensure. Never strawberry. It was in the cans of Ensure that I first found clumps of hair tangled in the cap. Mi Dios. By then Tía was a bird, hair falling off her like feathers. See here: a large dark wingless pájaro making no attempt to fly.

So here we are Tía y yo, yo y Tía. Here we are dragging the mano peluda that is the past, swallowed in its unforgiving baldness. A past that grows nothing, a past shinny and empty like the moon. From time to time I hear a loud thump! Thump! and when I run there she is fainted on the floor, a small dark halo of hair like a saint. So with the usual dread I pull the cotton balls and alcohol I carry with me and after she comes to herself the first thing she says is, oh it's you como tienes ese pelo de seco y feo. And what I want to do is swing the bottle of Lysol at her. Yes my own hair is dry and ugly. We are both dry and ugly. We are plucked from a story. We've never existed. We are part of someone's imagination. Conjured by a dark pen. I write so we may not be forgotten. I write so the NADA, the terrifying white space that salutes my every morning, doesn't swallow me whole.

Juli Delgado Lopera is the author of The New York Times acclaimed novel Fiebre Tropical (Feminist Press 2020), a finalist of the 2020 Kirkus Prize in Fiction and the 2021 Aspen Literary Prize. They are also the recipient of numerous fellowships and residencies, and the author of Quiéreme (Nomadic Press 2017) and ¡Cuéntamelo! (Aunt Lute 2017) an illustrated bilingual collection of oral histories by LGBT Latinx immigrants which won a 2018 Lambda Literary Award and a 2018 Independent Publisher Book Award.

Discover More from 20th Century & Contemporary Art Evening Sale >

Paula Rego 'The Aunt (Nada)' | London | Spring 2021
In 'The Aunt (Nada)' from 2006, Paula Rego expresses her propensity to utilise fiction to unveil personal truths in this most disquieting of images. Painted from life but using mannequins instead of life models, Rego's work and process make the perfect meeting place for the real and the uncanny.
Recommended Reading
A Tale of Three Artists: Gentileschi, Kollwitz, Emin >
The Prompt: Victory by Michelle Tea >