pionship
Olympia Fields Country Club (North Course)
T1

Scottie Scheffler

Total Rounds Played4 -11

T1

Matt Fitzpatrick

Total Rounds Played4 -11

3

Brian Harman

Total Rounds Played4 -10

4

Max Homa

Total Rounds Played4 -9

T5

Viktor Hovland

Total Rounds Played4 -8
LONG DAY, I GUESS
Max Homa had choice words for unruly fan who yelled during his backstroke on a putt for a $3 bet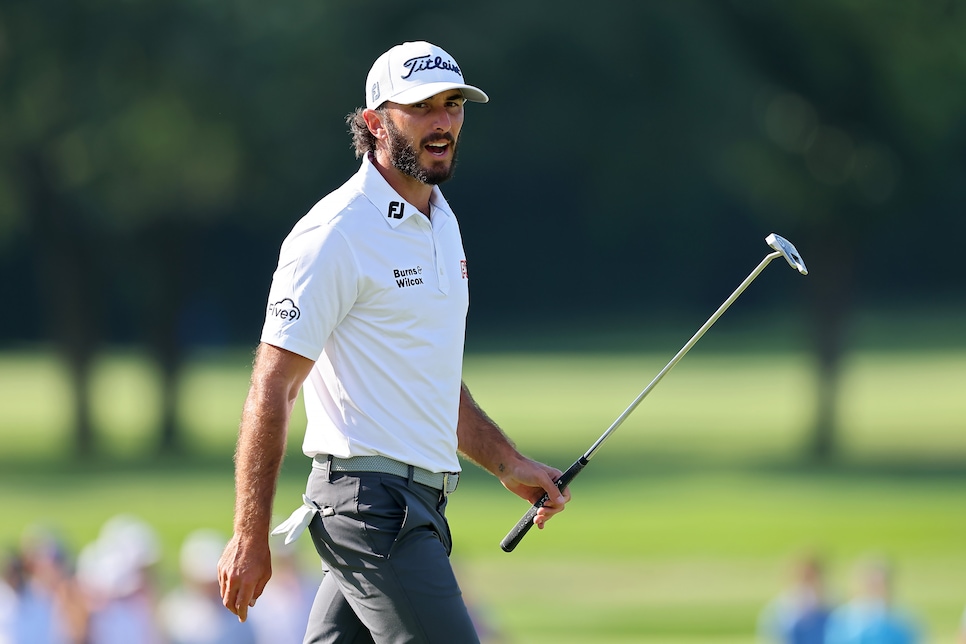 OLYMPIA FIELDS, Ill. — A $3 bet briefly interrupted the narrative of the $20 million BMW Championship on Saturday when a spectator yelled at Max Homa as he stroked a birdie putt on the 17th green at Olympia Fields Country Club. The intentional interruption brought into sharp relief players' concerns with real-time betting on PGA Tour events.
Homa, the second-round leader after a course-record 62 on Friday, was lining up a five-foot birdie putt as a male patron berated Chris Kirk, Homa's playing partner, after Kirk missed a birdie putt from 17 feet. The same voice then shouted "pull it" as Homa hit his putt, but the California native calmly stroked it dead center. He then saved par from seven feet on the home hole of the North Course to cap a one-over 71.
Kirk had a rough day, carding a 75 to fall off the pace after beginning the third round two shots behind Homa.
"There was a probably drunk, I hope for his case, or else he's just the biggest loser there is," Homa said, "but he was cheering and yelling at Chris for missing his putt short, and he kept yelling that he had … one of them had $3 for me to make mine, and I got to the back of my backstroke, and he yelled, 'pull it' pretty loud, and I made it right in the middle. And then I just started yelling at him, and then Joe [Greiner, his caddie] yelled at him."
Homa said that he yelled back, "that he's a clown, with maybe another word.
"I don't know what Joe yelled. He was a lot meaner, I think," Homa added. "It just was, I don't know. Long day, I guess. Hope he has a nice night, but it just sucks when that happens, but I was happy I made it. It was rude what he did to Chris."
Homa, who at one point held a three-stroke lead before a triple bogey at the par-4 seventh hole, stands at nine-under 201, two strokes behind co-leaders Scottie Scheffler and Matt Fitzpatrick.
The incident was believed to be the first on the PGA Tour in which a fan intentionally sought to alter the outcome of a shot.
Homa tried to be philosophical about what transpired but admitted that the behavior of the offending spectator is something that lurked in the back of his mind before actually being a victim of the interruption.
"I love that people can gamble on golf, but that is the one thing I'm worried about," Homa, a two-time winner this season, said. "He didn't care that … I don't know what he had to lose. He got kicked out probably.
"It's just always something that's on your mind. It's on us to stay focused or whatever, but it's just annoying when it happens. It just feels … it's like the one thing we have in this game, fans are so great about being quiet when we play. I think they are awesome. When anybody ever talks, it's so unintentional. They don't know we're hitting. It just sucks when it's incredibly intentional, and his friend specifically said it was for $3, so that was … not that the money matters, but that's a frustrating number."
"It doesn't matter what we're playing for," Homa contended. "We're working so hard, and I grinded my tail off to get that thing back to near even par, and had I missed that I would have just been … it just would have been a pain. It was nice to make it right in the middle and hopefully he had to pay his buddy that $3 immediately on the way out of the property."