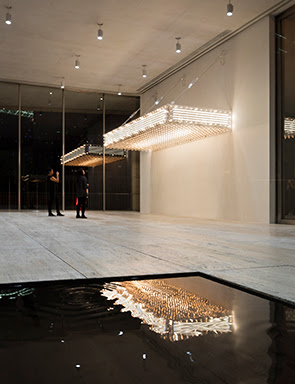 Exhibition view of Philippe Parreno: La levadura y el anfitrión, Museo Jumex, Mexico City, 2017. Photo © Andrea Rossetti.
| | | | | |
| --- | --- | --- | --- | --- |
| The First Art Newspaper on the Net | | Established in 1996 | Portugal | Monday, October 30, 2017 |
Museo Jumex opens first solo exhibition in Mexico by French artist Philippe Parreno

Exhibition view of Philippe Parreno: La levadura y el anfitrión, Museo Jumex, Mexico City, 2017. Photo © Andrea Rossetti.





MEXICO CITY.- Museo Jumex

presents a major new exhibition Philippe Parreno: La levadura y el anfitrión (The Yeast and The Host), the first solo exhibition in Mexico by French artist Philippe Parreno.

One of an influential generation of artists emerging in the 1990s, Parreno has pioneered new forms of art through collaboration, participation and choreographed encounters where "the exhibition is conceived as a scripted space, like an automaton producing different temporalities, a rhythm, a journey, a duration." For Museo Jumex, Parreno presents an expanded proposal over two floors. Combinations of new, existing and re-edited works are overlaid to produce different realities and experiences in an ever-changing composition.

La levadura y el anfitrión is an experimental world constructed of temporal events (films, sound, light) orchestrated and directed by a woman or a man moving throughout the gallery spaces. At the heart of the exhibition on the second floor gallery, a yeast colony is bred in a bioreactor in a control room. Connected to a computer, these microorganisms adapt to events triggered by the human host, who might decide to change the sequence of light and sound, to play a film or a musical composition on the piano. In response, the yeast sends back information to systems which change lighting conditions or soundscapes contained within the museum. The system also scripts the events on the first floor gallery where a marquee, inspired by the luminous structures that overhang the entrances to movie theaters, bristles with lighting that modulates in generative sequences.

Commissioned for La Colección Jumex, the marquee is presented in an environment that seems to answer its changing patterns through sound and movement choreographed with the worlds evoked in the gallery above. By turning the control of the show over to the hosts as well as natural and algorithmic systems, Parreno's work explores a realm that lies between the human mind—the host that choreographs the exhibition—and other spectral forms of intelligent or emergent matter and activity.

Philippe Parreno has radically redefined the exhibition experience by taking it as a medium, placing its construction at the heart of his process. Working in a diverse range of media including film, sculpture, drawing, and text, Parreno conceives his exhibitions as a scripted space where a series of events unfold. He seeks to transform the exhibition visit into a singular experience that plays with spatial and temporal boundaries and the sensory experience of the visitor, who is guided through the space by the orchestration of sound and image. For the artist, the exhibition is less a total work of art than a necessary interdependence that offers an on-going series of open possibilities.

Parreno was awarded the 2016 Hyundai Commission at the Tate Modern Turbine Hall in London, titled Anywhen. In 2013, he became the first artist to occupy the entire 22,000 square metre gallery space at the Palais de Tokyo, Paris with his exhibition Anywhere, Anywhere Out of the World. Major exhibitions of Parreno's work include The Rockbund Art Museum, Shanghai (2017); Serralves Museum of Contemporary Art, Porto (2017); ACMI, Melbourne (2016/17); Hangar Bicocca, Milan (2015), Park Avenue Armory, New York (2015), CAC Malaga (2014), The Garage Center for Contemporary Culture, Moscow (2013); Barbican Art Gallery, London (2013); Fondation Beyeler (2012); Philadelphia Museum of Art (2012); The Serpentine Gallery, London (2010); Witte de With (2010); Irish Museum of Modern Art, Dublin (2009); Centre Pompidou, Paris (2009); Kunsthalle Zurich (2009); CCA Kitakyoshu, Japan (2006); Kunsthalle Zürich (2006); San Francisco Museum of Modern Art (2003); Musée D'Art Moderne de le Ville de Paris (2002), and Moderna Museet, Stockholm (2001). Parreno is currently participating in the International Pavilion at the 57th Venice Biennale, his 7th Biennale since the early 1990s.

Parreno's work is represented in numerous major museum collections, including Tate, London; MoMA, New York; Centre Pompidou, Paris; Solomon R. Guggenheim Museum, New York; Kanazawa Museum of the 21st Century, Japan; Musée d'art modern de la Ville de Paris, Paris; SFMOMA, San Francisco;Walker Art Center, Minneapolis.

The artist lives and works in Paris. He studied at the Ecole des Beaux-Arts in Grenoble from 1983 - 1988 and at the Institut des Hautes Etudes en arts plastiques at the Palais de Tokyo, Paris from 1988 -1989.