KEEP A CLEAR HEAD
For new golfers, an uncluttered mind is a beautiful thing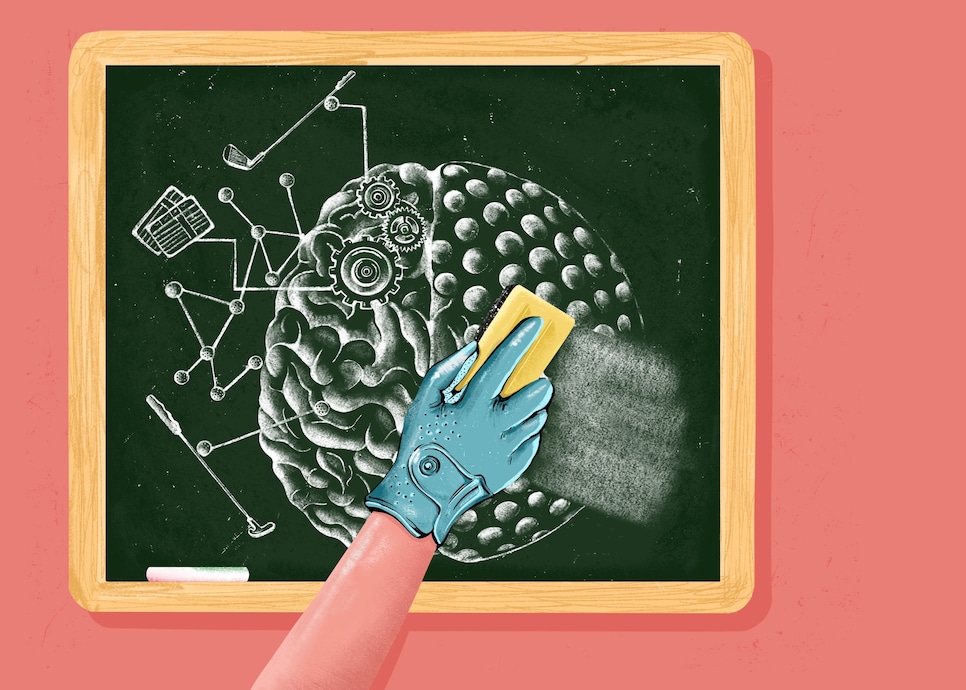 Illustration by Chloe Zola
Bad shots plague every golfer, from tour players to someone picking up a club for the first time. The reaction is usually one of anger or resignation, which can carry over into the next shot and cause more exasperation. Before you know it, you're on the final hole in a daze, unsure of how everything went so wrong.
Pia Nilsson and Lynn Marriott are here to save you from yourself. The two women were working as golf coaches—Marriott after a collegiate golf career and Nilsson after playing on the LPGA Tour and coaching the Swedish national teams—when they created Vision54. It's a golf school in Scottsdale where people can go to get on-course training from the performance gurus. Nilsson and Marriott also work with professionals on the LPGA Tour and PGA Tour. Ten are major-championship winners, including Annika Sorenstam, Suzann Pettersen and Ariya Jutanugarn.
Nilsson and Marriott believe that the key to good golf starts with a healthy mental approach, and a major part of that is learning how to react to bad shots. Their research in neuroscience has informed their teaching. For example, the way a person reacts emotionally to an event affects the way that person's brain stores the memory. If you get mad after a bad shot, the shot and that negative reaction are stored in your mind. The more you replay it, the more prominent the memory becomes. Because of those negative reactions, your brain starts to associate golf shots with something scary, something to avoid. This can be detrimental to your game.
If you shouldn't get mad after a bad shot, then what should you do?
"As a new golfer it's extremely important early on to realize that you can separate the outcome from the process," Nilsson says. "Even though the goal is to get the ball in the hole, to get the ball in the hole you need to know what your intention is for that stroke or putt. That's what you should evaluate, not the shot's result."
Here are five things Nilsson and Marriot say you can tell yourself instead of cursing or tossing a club when your ball ends up in a bunker:
(1) "I didn't hold my finish."
(2) "I misjudged the wind."
(3) "Next time, I will make a smaller swing."
(4) "I was thinking about the outcome instead of feeling my tempo."
(5) "I didn't trust my decision. Next time I will honor my gut."
Most of the golfers Nilsson and Marriot work with have been playing golf for a while, so they have been "brainwashed" to think about the result and not the process. The advantage that beginners have is that there are no bad habits that need reworking. It's a lot easier to start out thinking like this on the golf course than trying to train yourself to do it after years of agonizing over bad shots.
The good news is that the way our brains store memories works for positive emotions, too.
"When you do something well, you should celebrate it for about 15 seconds, even if it's just internally," Nilsson says. "Anything from great to good to good enough you need to recognize and take in and be proud of it."
Nilsson also suggests talking about good shots after your round.
"What we practice, we get good at," she says. "If I practice reminding myself of good shots and what I do when I hit good shots, it's going to be easier to do those things more often."