ENTERTAINMENT
Stephen Colbert Says Trump Has Cornered The Market On 'Being A S**t'
"Honesty suddenly seems cool," the late-night host said.
NEWARK, N.J. ― The way
Stephen Colbert
sees it, President
Donald Trump
has cornered the market on "being a s**t." And apparently some good is coming from it.
"What's nice about Trump is he's so horrible that it's kind of hip to be nice," the late-night host said in a conversation with Samantha Bee during a fundraiser for New Jersey's
Montclair Film Festival
. "It's counter-cultural. It's counter-cultural just not to be a complete selfish heel all the time. Honesty suddenly seems cool."
The commander in chief came up more than a few times during the conversation between Bee and Colbert at the New Jersey Performing Arts Center Saturday.
"He's the opposite of me in every single possible way, and also tearing apart these gentlemen's agreements that we've all lived with for so long," Bee said of Trump. "I don't exactly know how we get back to a good place once he's gone."
It's not all bad, though. For example, the pair said the U.S. could get back to some sort of political equilibrium at the local level.
The "Full Frontal with Samantha Bee" host said that she believes that one of the good things about the administration is "the emergence of people's activism" and the spirit of decency Trump's hate has inspired.
Colbert reiterated that point, adding that people have no choice these days but to be nice. "Isn't that interesting," said Colbert. "Yeah, 'cause if he corners the market in being a shit, then being decent suddenly becomes the only marketplace left for you."
The "Late Show" host brought up an anecdote about his "Tonight Show" rival Jimmy Fallon to illustrate his point.
"Jimmy and I are friends, nobody believes that, but Jimmy and I are friends. He's so nice when you're with him, it's not an act, and when the cameras shut off, he's still like that ― exhaustingly like that," said Colbert. "He's so nice you're like, I think I might be a complete dick, because there's no nice left in the room for anyone else."
The pair went on to talk about the deluge of sexual harassment stories coming out in the news.
Colbert recalled one of his children telling him, "You know, if sexual impropriety were weather, this is hurricane season! Every day, there is landfall of another hurricane. An idol, a career, gets ripped away!"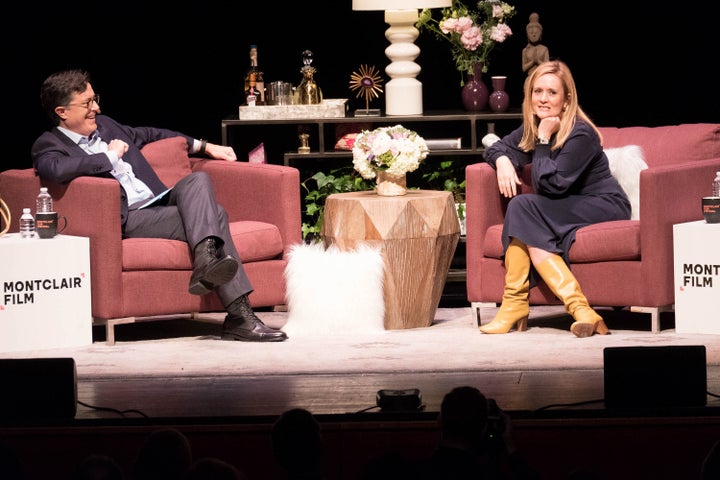 Their conversation also touched on
Louis C.K
., who was scheduled to
appear on Colbert's "Late Show"
the same day The New York Times dropped a story about the comedian sexually harassing various women, behavior that's been rumored about for years. Colbert called himself dumb for not knowing more about Louis C.K.'s past.
He said that had the comedian been on the show, he would have addressed the rumors by asking him a question posed in Louis C.K.'s movie "
I Love You, Daddy
."
"One of the characters says, 'Can you separate an artist from rumors about him?' Well, how would you answer that question? That was going to be my tact," said
Colbert
.