Artsy ​· 40​1 Broad​way · 26​​th Flo​or · Ne​w Yor​k, N​​Y​ · 10​​01​3
Joel Meyerowitz's Photos of 1980s Provincetown Capture a Bohemian Paradise
Soft summer light drifts over the subjects in Provincetown portraits. It smooths over dunes, waves, ocean-kissed curls, and downy bodies, creating a dreamy allure. In Meyorowitz's scenes, mostly taken throughout the 1980s, residents and travelers stand on the boardwalk or recline in the sand. Behind them, the clapboard homes and wooden fences typical of New England architecture serve as quaint backdrops.
Altogether, Meyorowitz's pictures, which Aperture has presented together for the first time in the volume Provincetown (2019), suggest a blissful bygone era. The portraits are a far cry from the photos that initially made Meyerowitz famous—candid, unposed 1960s street photographs, shot on 35 millimeter film—but they're a natural next step following his 1970s landscape shots of Cape Cod. In this series, Meyerowitz merged his interests in portraiture and the coastal environment, making pictures that reveal his subjects' simultaneous repose and self-determination in an ultra-progressive and beautiful seaside town.
Meyerowitz has laid out a selection of these pictures in subtle chapters within the book, separated by small landscape shots. One section focuses on women reclining like odalisques, another on close-up portraits, and others on romantic couples—both queer and straight—and mother-daughter pairings.
The project began in 2017, when Aperture reached out to Meyerowitz with an interest in making a book on 1980s style with an eye towards issues of gender and sexuality. His archivist at the time, Jenny Goldberg, sent the foundation hundreds of photographs that he had made at the beach, many of which had never been shown.
The pictures capture an era when the gay community was beginning to enter the mix of the summer season crowd, which previously, as Meyerowitz recalled, comprised "artists, and Portuguese fishing families, and day trippers, and just all over Americana." The region was an ideal place to express yourself, with "a sense of freedom in being away from the culture of condemnation."
The series began when Meyerowitz put out an open call for subjects in the local newspaper Provincetown Advocate, requesting "remarkable" volunteers. He used an old-school 8x10 view camera, which required him to stand nearby while his subjects gazed into his machine. "They had to look in the mirror in a way," he recalled, "like they do when they're in their own intimate space."
In his work, Meyerowitz reconsidered what makes for a "remarkable" subject, teasing visual intrigue from each beachgoer and Provincetown resident who showed up at his door. All believed themselves to fit his description for different reasons. One woman, whom Meyerowitz described as a classic American beauty with a New England look, revealed that she'd been in a terrible car crash, and had her face reconstructed. "I realized I was looking at a miracle," Meyerowitz recalled. Taking picture after picture, he realized "that really all of us are remarkable."
Yet Meyerowitz's project quickly expanded beyond "remarkable" strangers as he began shooting his friends and acquaintances on the Cape. One frame, The Packard Family (1981), features a woman, Ann, in a white bucket hat and paint-splattered pants, her arms around her three daughters: one topless, one in a black bikini, and one in a metallic blue suit. Ann, an artist and a friend of Meyerowitz's, raised five children on her own with little income. Now, both she and her daughter Cynthia are well-regarded artists on the Cape. Meyerowitz's picture has become a time capsule of a younger, fallow time, with a sense of hope embedded in the beachy light.
Another picture, Gabriel and Sam (1981), features a curly-haired woman, Sam, on the boardwalk with her girlfriend, Gabriel, a green parrot perched on Sam's shoulder. The ocean breeze tousles their hair as Gabriel hugs her partner's leg, while light shines off their shoulders and the sea behind them. Gabriel ran a small boutique hotel in Provincetown for gay women, which still stands today. She invited Meyerowitz to the hotel to take pictures of her lodgers canoodling. "That's a pretty demanding thing to do, to be in a space with people when they're being intimate with each other, and not change the texture of the moment," Meyerowitz said.
In accordance with Aperture's original request, style remains a central concern throughout the finished book. Jan (1985) wears a single cross earring dangling from her right ear, socks with sandals, and a bright red crop of hair.Kacie (1980) dons a green band around her forehead and an inside-out yellow t-shirt, chopped at the sleeves. The fashions and hairdos in the photographs conjure a group of films of the era, from St. Elmo's Fire (1985) to The Breakfast Club (1985), and nostalgic visions of feathered hairstyles and athletic shorts.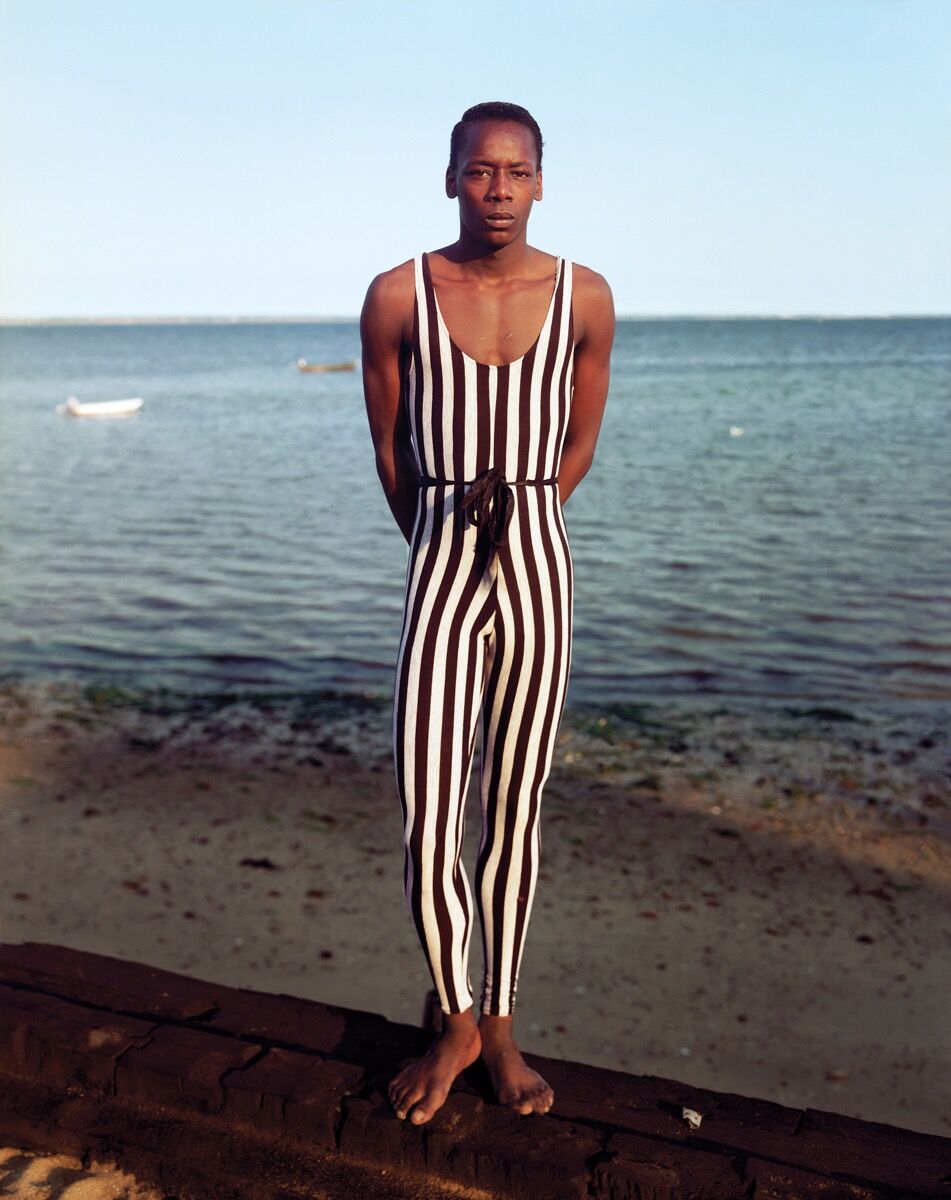 One of the best outfits belongs to Darrell (1983), whose photo adorns the cover of the monograph. He crouches on a wooden dock in front of the ocean, wearing a black-and-white striped one-piece leotard, tied at the middle. Darrell was a dancer and a self-titled "house boy" at a gay men's hotel, according to the photographer. Meyerowitz was walking home one day when he spotted Darrell practicing ballet. "I just watched him for a couple of minutes and he was so beautiful," Meyerowitz said. "He had no hips, and he was physically just radiant."
An element of chance is similarly responsible for Rick (1984), a man in a suit jacket and no pants, submerged in water to his waist. Rick was Meyerowitz's friend, a businessman from Boston. He'd just driven out from the city to his cabin the Wellfleet woods, where he planned to celebrate his birthday with a dinner party. Meyerowitz had never seen him in a suit before. "We always swam long-distance together," Meyerowitz recalled. "So I felt good with him in the water."
In such ways, the Provincetown series becomes a record of the photographer's own years in the Cape—with friends or on his own, always meeting new people and never without his camera. Some of Meyerowitz's subjects were townies, and others only seasonal visitors. But in his pictures, summer never ends.
Alina Cohen is a Staff Writer at Artsy.