INSTRUCTION
Warm up with a plan: A top teacher's best tips on using range time before your round
Getty Images/Portland Press Herald
When you're tight on time before you tee off, you need a plan. A quick, meaningful warm-up can have many benefits: Finding your tempo, boosting your confidence and preventing injury. It can be the difference between a slow or a hot start.
Golf Digest Best Young Teacher Matt Wilson, the Director of Instruction at Baltusrol Golf Club in Springfield, N.J., helped us formulate a concise, half-hour plan for the next time you're running behind schedule. Follow this guide, and you'll be more confident early in your next round.
Duration: First 2-3 minutes
Priming your body to move properly is an essential first step, Wilson says. Not only can you prevent injuries by stretching effectively, but it will make it easier to find your groove at the start of your round.
More than anything, a pre-round warm-up is about getting your body ready. You don't have to go full Miguel Angel Jimenez with your stretches; just a couple minutes of simple ones like these will do the trick. Once you're finally feeling a bit more athletic and a little less like you just stepped out of your car, it's time to grab a club.
Establish a rhythm for the day.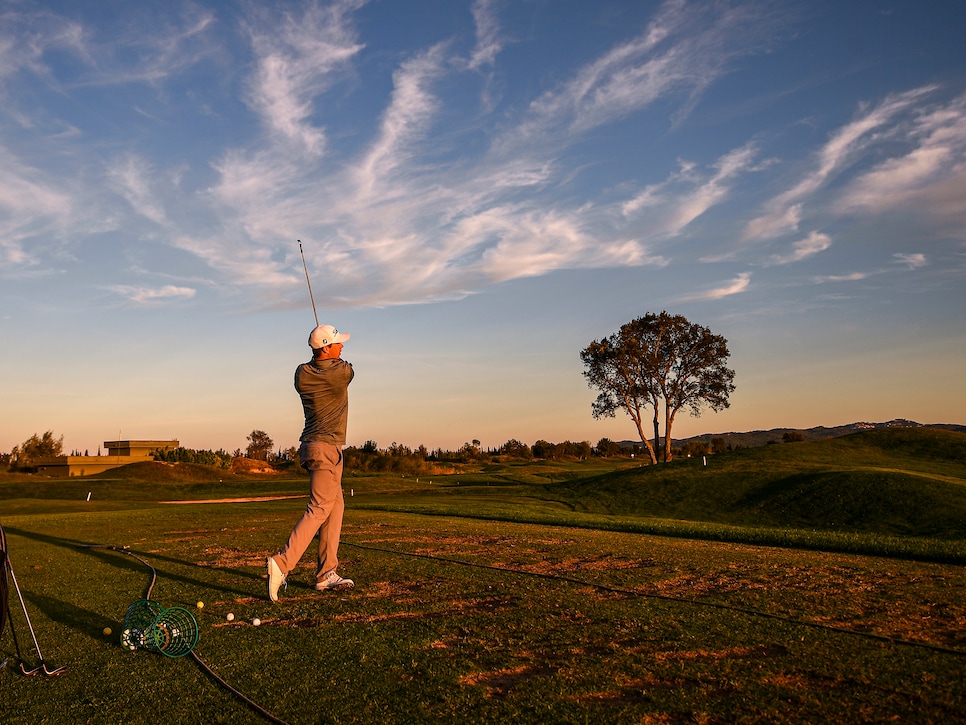 Wilson sees average players taking full, 100-percent swings for their first hacks of the day. Do a little less, he says. Hit less-than-full wedge shots and work your way through the bag up to full swings. Wilson prefaces: "there's a difference between range time and practice time."
You're not going to have time to hit every club in your bag. Hit only a few balls with every other club, starting at about 70 percent speed and gradually increasing up to 100 percent.
If you find yourself dealing with an unexpected miss during your pre-round warm-up, don't shift into panic mode and dwell over finding a fix. Instead, Wilson says to resort back to fundamentals.
"Before you look at the dynamics of the swing or the result of the ball flight, make sure your statics are on point," he says.
These statics, as Wilson calls them, are body and clubface alignment, posture, ball position and grip, i.e. your swing when it's still. Your setup lays the foundation for how effective your motion can be and directly affects impact, he says.
"Even as you're warming up, put an alignment stick down to ensure your body line is in the proper position at address," Wilson says. "Tour pros do that all the time to find a tiny bit of confidence."
Boost your preparedness by simulating variety.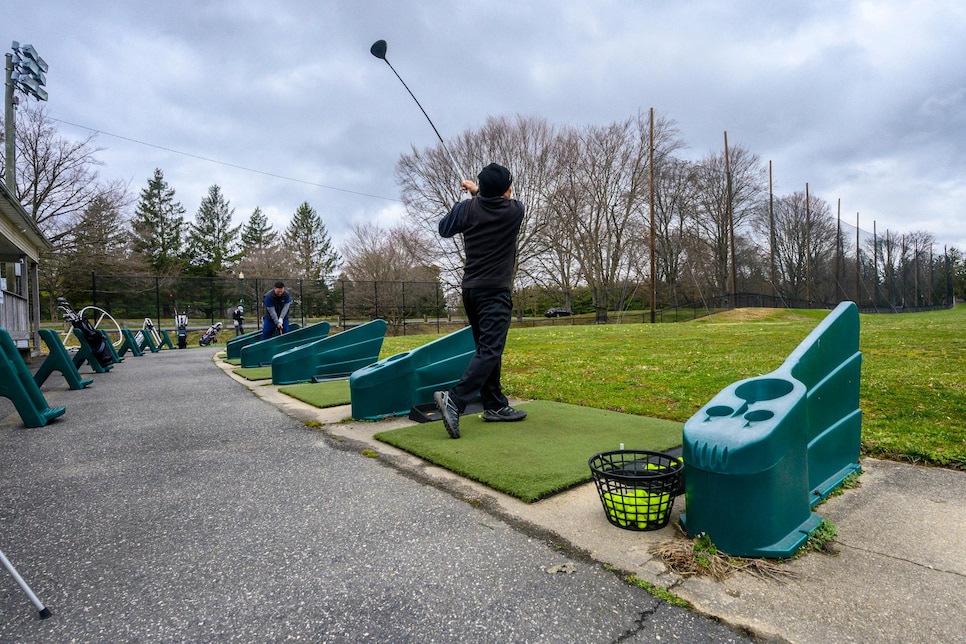 It's time to break your habit of hitting the same club five to 10 times in a row, Wilson says. Alternating clubs and targets is extremely underrated. Beyond your nerves, it does a lot for your tempo and focus if you're practicing realistically.
Jack Nicklaus said he never hit a range ball without visualizing an actual shot. Wilson recommends playing a few holes in your head on the range. Visualize the first hole, or any par 4 if you've yet to see the course you're about to play. Take one ball and identify a "fairway" on the range: say, between two flags. Do this next with your approach shot.
Adding a realistic pressure element to your preparation will make standing over each shot during your round a bit more comfortable.
Don't forget the shortest club in your bag; it's also the most important.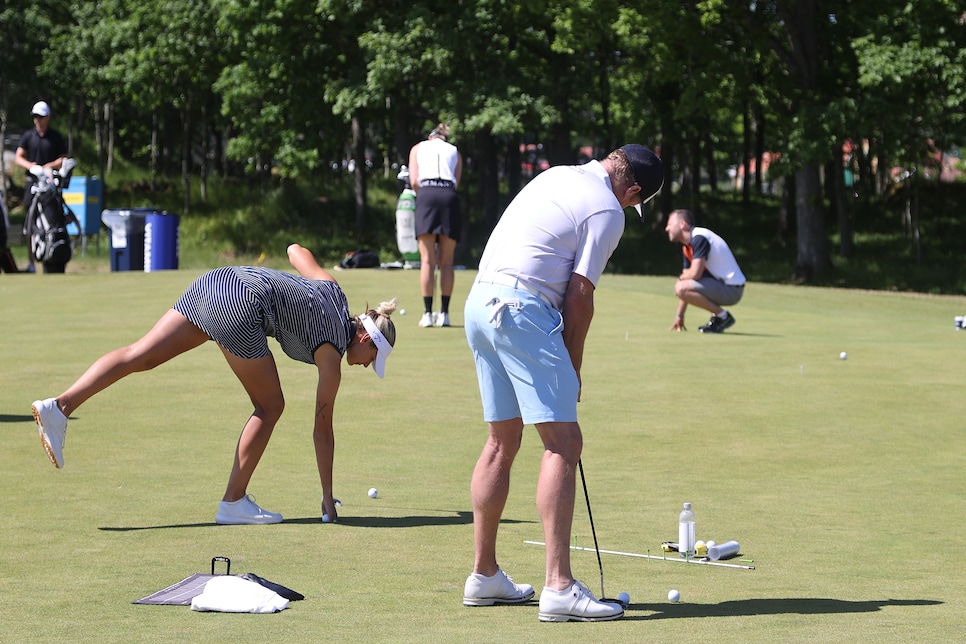 Wilson reveals that most amateurs have the wrong approach to getting a feel for the greens, and often make the mistake of hitting a few putts on the practice green just for the sake of it. "Many players drop three balls on the ground and hit one to three different holes."
Wilson warns this does very little to dial in your putter. There's one thing Wilson advises to focus on when you're warming up on the practice green: speed.
"Instead, drop three balls and intentionally pass the target on your first, come up short on your second, and roll it hole-high with your third," Wilson said. You'll have a much better understanding of the greens by honing in on speed and distance.
Now, it looks like you're on the tee. Fore, please!