Helmut Newton New Exhibition

Helmut Newton Foundation

newsletter@helmut-newton-foundation.org

através de dme3ds1.com
Desativar para mensagens em: inglês
HELMUT NEWTON FOUNDATION
BODY PERFORMANCE
VANESSA BEECROFT, YANG FUDONG,
INEZ & VINOODH, JÜRGEN KLAUKE,
ROBERT LONGO, ROBERT MAPPLETHORPE,
HELMUT NEWTON, BARBARA PROBST,
VIVIANE SASSEN, CINDY SHERMAN,
BERND UHLIG, ERWIN WURM
Opening: 29 November 2019, 8 pm
30 November 2019 - 10 May 2020
Performance is an independent art form and photography is its constant companion. Human actions in front of the camera can be conscious or unconscious, choreographed or accidentally observed. For the first time, this group exhibition brings together photo sequences whose origins lie in performance art, dance, and other staged events, complemented by conceptual photography series. With their common focus on the human body, the images document or interpret performances, which in many cases have also been initiated by the photographers themselves.
Helmut Newton, Ballets de Monte Carlo, Anne Derieux and Frédéric Olivieri, Monaco 1988
One relatively unknown work by Helmut Newton is the series of images he made of the dancers of the Monte Carlo Ballet. Taken over many years, the photos were intended for print in the theater's program booklets and special publications. Newton accompanied the dancers on the streets of Monaco, on the steps behind the famous casino, or in the nude near an emergency exit of the theater.
Bernd Uhlig, Sasha Waltz Dialoge 1/99, Sophiensäle Berlin 1999, © Bernd Uhlig
Added to Newton's Ballet series, works by 12 internationally renowned artists and photographers are presented throughout the exhibition rooms, among them Bernd Uhlig, who has photographically accompanied the dance choreographies by Sasha Waltz for many years. Here, a genuinely fleeting art form and its visual materialization find a congenial connection.
Vanessa Beecroft, VB55 - Performance, Neue Nationalgalerie, Berlin, 2005, © Vanessa Beecroft
Vanessa Beecroft presents nude or sparely clothed women in elaborate tableaux vivants, and during the hours-long actions their movements occur in slow motion. Beecroft photographically documents this state of moving motionlessness, and the numerous images of the performance transport the process into the static image, f.i. her performance VB55, presented at Berlin's New National Gallery in 2005, transformed into life-size prints.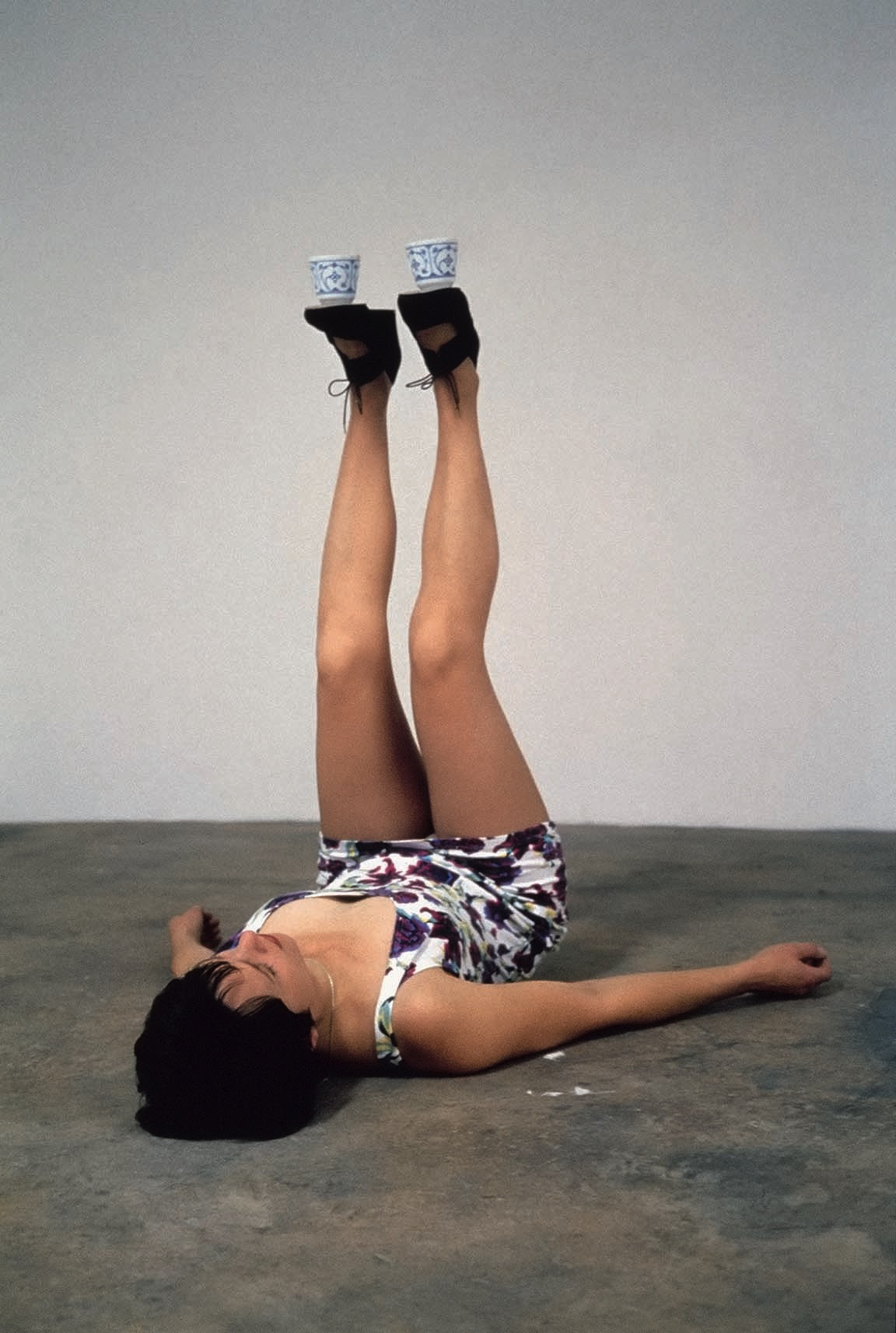 Erwin Wurm, One Minute Sculpture I, 1997, © Erwin Wurm, courtesy König Galerie
Erwin Wurm asks people for a mini performance in front of the camera. For his "One Minute Sculptures", people interact with objects to transform the street and various interiors into a stage. Wurm thinks up curious poses or absurd contortions for the collaborators, becoming part of his art for a short period.
Viviane Sassen, Untitled from Roxane II, 040, 2017, © Viviane Sassen, courtesy Stevenson Gallery, Cape Town
Viviane Sassen also works mainly with the human body. She sometimes captures it in extreme contortions for her experimental fashion images. She choreographs and stages her models´ bodies in unexpected ways, for example by coloring their skin or depicting them obscured by shadow, mirrored, superimposed by objects.
Robert Longo, Men in the Cities, New York 1976-1982, © Robert Longo, courtesy Schirmer / Mosel Verlag
It was in the 1970s that Robert Longo shot his photo sequence "Men in the Cities" on the roof of a high-rise building in New York City, which he later reinterpreted as large-format charcoal drawings. In these images, we see people caught by the camera in unnatural poses. They appear to be dancing wildly, or replaying scenes from American western, war, or gangster films – for example, when someone seems to fall in a hail of imaginary bullets.

Thus, in this exhibition we see a broad swathe of approaches expressed in artistic actions and performances focusing on the human body including role play and physical or digital transformation of the body.
OPENING HOURS
Tuesday, Wednesday, Friday, Saturday, Sunday 11 a.m. – 7 p.m.
Thursday 11 a.m. – 8 p.m.
ENTRANCE FEE
10 € / 5 € concessions
GUIDED TOURS
every Sunday 4 p.m.
phone +49 30 266 42 42 42 / fax +49 30 266 42 22 90
Special guided tours on demand.