http://www.artnet.com/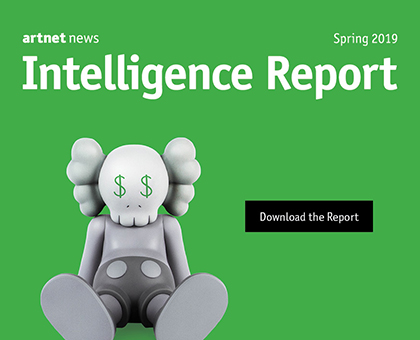 This second artnet Intelligence Report drills down into the fact that art is never divorced from commerce, politics, or economics—much as we might like to think otherwise. In this issue, we explore the effects of China's economic quake on the art market and uncover the powerful forces behind the craze for street artist-turned-global phenomenon KAWS. We also offer advice on how to best leverage your art collection during a recession, and how to collect the rising stars participating in this year's Venice Biennale.
Above all, this report explores how data—compiled here in close and creative partnership with the indispensable artnet Price Database team—can offer valuable insights to help us better understand the past, prepare for the future, and appreciate the art of our time along the way.
Key Findings for 2018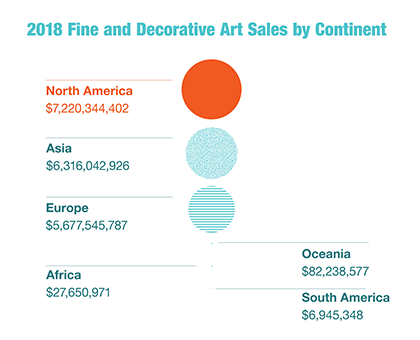 $5.95 billion was spent on postwar and contemporary art at auction worldwide—a 15 percent increase from 2017—while $19.3 billion was spent on all fine art, design, and decorative art at auction.
North America vastly outpaced every other continent in total sales, generating $7.2 billion in auction revenue for fine art and design. Works for sale in North America were also more likely to find buyers.
In addition, Americans dominate our list of top-selling artists at auction in 2018, representing a full quarter of the group. Chinese artists are close behind, with a 20 percent share.
At the same time, Andy Warhol has been dethroned: Zao Wou-Ki displaced the Pop pioneer as the top-selling postwar artist last year, generating a total of $328 million at auction.
Picasso is in a league of his own, with $754.4 million worth of art sold in 2018—more than double the total generated by runner-up Claude Monet.
Since 2013, the top two segments of the market—composed of works priced from $1 million to just under $10 million, and $10 million and up—have grown, while lower-priced segments have shrunk.