https://www.wmagazine.com/story/fashion-cafe-naomi-campbell-claudia-schiffer
Remembering the Bizarre History of New York's Fashion Café
A look back at the ill-fated theme restaurant fronted by Naomi Campbell, Elle Macpherson, and Claudia Schiffer.
"Stuck in My Head" is a new essay series that celebrates the highly specific moments in fashion history that we're pretty sure will stay lodged in our brains forever, from film costumes to runway bloopers to the ad campaigns of our youths. Here, Staff Writer Stephanie Eckardt reflects on New York City's short-lived Fashion Café. Read Senior News Editor Kyle Munzenrieder's deep dive into the under-appreciated fashion impact of Irish pop musician Róisín Murphy, here.
There was nothing practical about the night in 1994 when Naomi Campbell, Elle Macpherson, and Claudia Schiffer burst through a paper backdrop like the Kool-Aid Man. It was December in New York City, and Schiffer was wearing a crop top and a mini skirt. They were on a construction site, and Campbell and Macpherson were wearing heels and dresses. When it came time for a photo op, they all wore standard-issue hard hats—a perfect encapsulation of their nonsensical role in the erstwhile theme restaurant known as the Fashion Café.
Seventeen years later, the ill-fated establishment would be named one of the biggest branding mistakes of all time. "The connection between models and food was not an obvious one, and 'fashion' was not a theme that made people feel hungry," Matt Haig wrote in his 2011 book Brand Failures. Even then, it was a familiar criticism: "You can never generalize," Schiffer told a reporter in 1995. "I love chocolate. We love so many different things."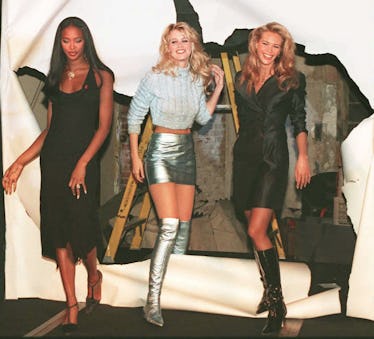 It isn't always a failure when food and fashion intersect: Think of how Ralph Lauren and Rachel Comey have staged runway shows as dinner parties, the success of Kith Treats, or the longstanding tradition of department store restaurants. But there was something about the specific type of glamour that dominated the industry in the 90s that made the two concepts seem totally incongruous. Today, the lack of logic behind the Fashion Café is precisely what makes it such a delight to revisit. And as long as you weren't hungry, the same was true back in its heyday.
Aesthetically, the Fashion Café was pure kitsch. The Rockefeller Center flagship looked just as gimmicky as the Hard Rock Café a few blocks away. Its entryway was shaped like a giant camera shutter, and the dining room had display case after display case of fashion memorabilia like Madonna's Jean Paul Gaultier cone bra. But apart from those features, it could have been any other diner. There were booths and murals with Big Apple clichés like the Chrysler Building.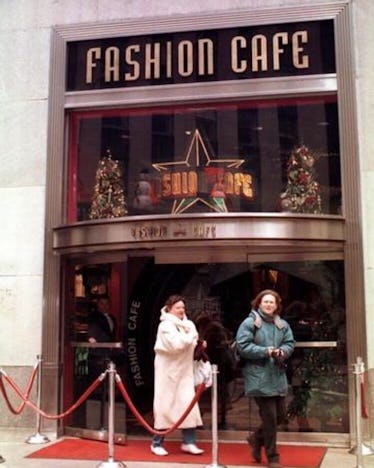 For tourists, the Fashion Café actually was a restaurant. Its menu was seven pages long, and simply slapped supermodel's names on otherwise ordinary burgers, waffle fries, pizzas, salads, and steaks. It was basic enough to host events for National Canned Food Month and Frito Lay. Campbell, Macpheron, and Schiffer were the faces, but the business plan was actually all about accessibility. "With something like this, you cannot go too deeply into fashion," the then 28-year-old CEO, Tommaso Buti, told New York magazine. "The public is not that educated and not that interested. They want to see more the glamour and the entertainment of fashion." According to Buti, what they really wanted was to munch on Naomi's Fish and Chips in the company of increasingly less collectible fashion memorabilia, like a dress from The Nutty Professor worn by Jada Pinkett Smith.
For celebrities, it was a different story. The Fashion Café also had an exclusive side, as a venue for over-the-top, food-free parties attended by guests like Prince. "The trendy, hipper-than-thou fashion crowd stuck out like Donna Karan in a Kmart far afield from the chic streets of downtown," the Associated Press reported when it launched in the spring of 1995. But the industry didn't seem to mind that its location—right across the street from the Women's National Republican Club in Midtown—was far from chic. (Today, the storefront space houses a Banana Republic.)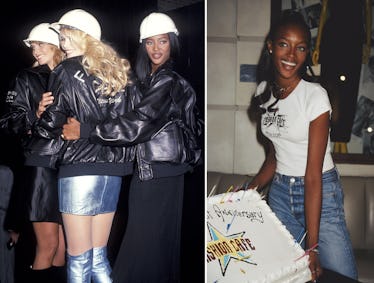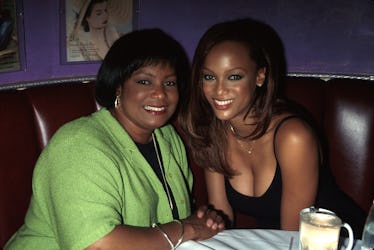 The Fashion Café's grand opening was the highlight of that season's fashion week. Gianni and Donatella Versace, Tyra Banks, Veronica Webb, Beverly Peele, and Eileen Ford were all on the guest list. So were assorted celebrities like Stephen Baldwin, David Copperfield, the Wayans brothers, Jon Stewart, Matt Lauer, RuPaul, and Molly Ringwald. It was the only non-runway show event MTV's House of Style bothered to cover, and Roberto Cavalli pushed his New York debut dinner party three times to avoid a scheduling conflict. "We would have loved to have had it after Roberto's show on Friday night, but who's not going to go to the Fashion Cafe?," Lauren Ezersky, who planned the event, told the Times. "If we had the dinner on Friday, I might have skipped my own party."
Three months later, things were going so well that Christy Turlington decided to come on board. The restaurant erected a talking "spokesmannequin" in her likeness, and Campbell, Schiffer, and Macpherson naturally threw yet another party to celebrate. (If there's one thing the Fashion Café excelled at, it was throwing parties for itself; there was even one for that Nutty Professor dress.) The "tacky theme restaurant for tourists," as Turlington lovingly described it, expanded to seven more locations, including London, Jakarta, and New Orleans.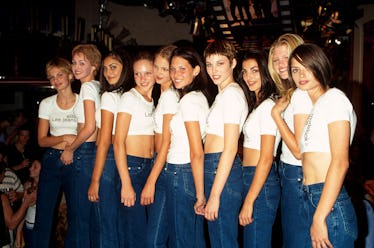 Behind the scenes, Buti and his co-owner, his brother Francesco, were struggling. At first, their legal troubles were relatively simple, and four of the decade's top supermodels easily distracted the public from the lawsuits about copyrights and trademarks on the restaurant's name. In 1998, that was no longer the case. The Butis weren't paying taxes, rent, utility fees, or premiums on unemployment insurance, and the government had noticed. Meanwhile, Tommaso was making headlines for spending $20,000 on his birthday party and renting an apartment that cost $25,000 per month.
That year, the original Fashion Café closed, and Turlington called it quits. By December, Buti faced a total of $15 million in lawsuits from his partners. He settled for $350,000 (and celebrated with Donald Trump). Schiffer made it out just in time, while Campbell and Macpherson stuck around to accuse Tommaso of stealing $10,000 a day. But he and Francesco had much bigger worries: By 2000, they were arrested and indicted on 51 federal counts, including fraud, money laundering, and conspiracy.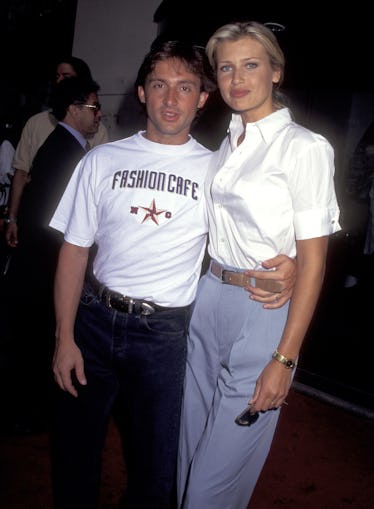 Today, the merch, which features an extremely '90s star design against a white, black, or red backdrop, is all that remains. In its first four months, the Fashion Café reportedly sold more than 28,000 tees. Two years later, the gift shop was still going strong, landing it first on the Times's list of "Restaurants Where the Garnish Is a T-Shirt." Every so often, one of them resurfaces, popping up on Depop, Grailed, or eBay.
If it weren't for the Buti brothers' mismanagement, would the Fashion Café still exist today? Probably not. Models have since learned the art of turning a personal brand into a lucrative side gig or a nonprofit powerhouse. (Turlington among them—she founded Every Mother Counts in 2010, which inspired Karlie Kloss to launch Kode With Klossy in 2015.)
And yet, a comeback could be in the cards for a fashion-tourism crossover. We'll have to wait until after the pandemic to see if Tyra Banks has better luck with her Disneyland-inspired theme park, where "anybody can enter and feel like a model." Rest assured: she's learned from the Fashion Café's mistakes. "They really missed the mark with that," the part-time Stanford Business School professor said when announcing Modelland. For starters, she's already figured out the merch.
Related: Mary-Kate and Ashley's Early 2000s Movies Invented Every Gen Z Trend