From Slim Aarons to Horst P. Horst: 10 Iconic
Fashion Photos to Celebrate Summer (Sponsored)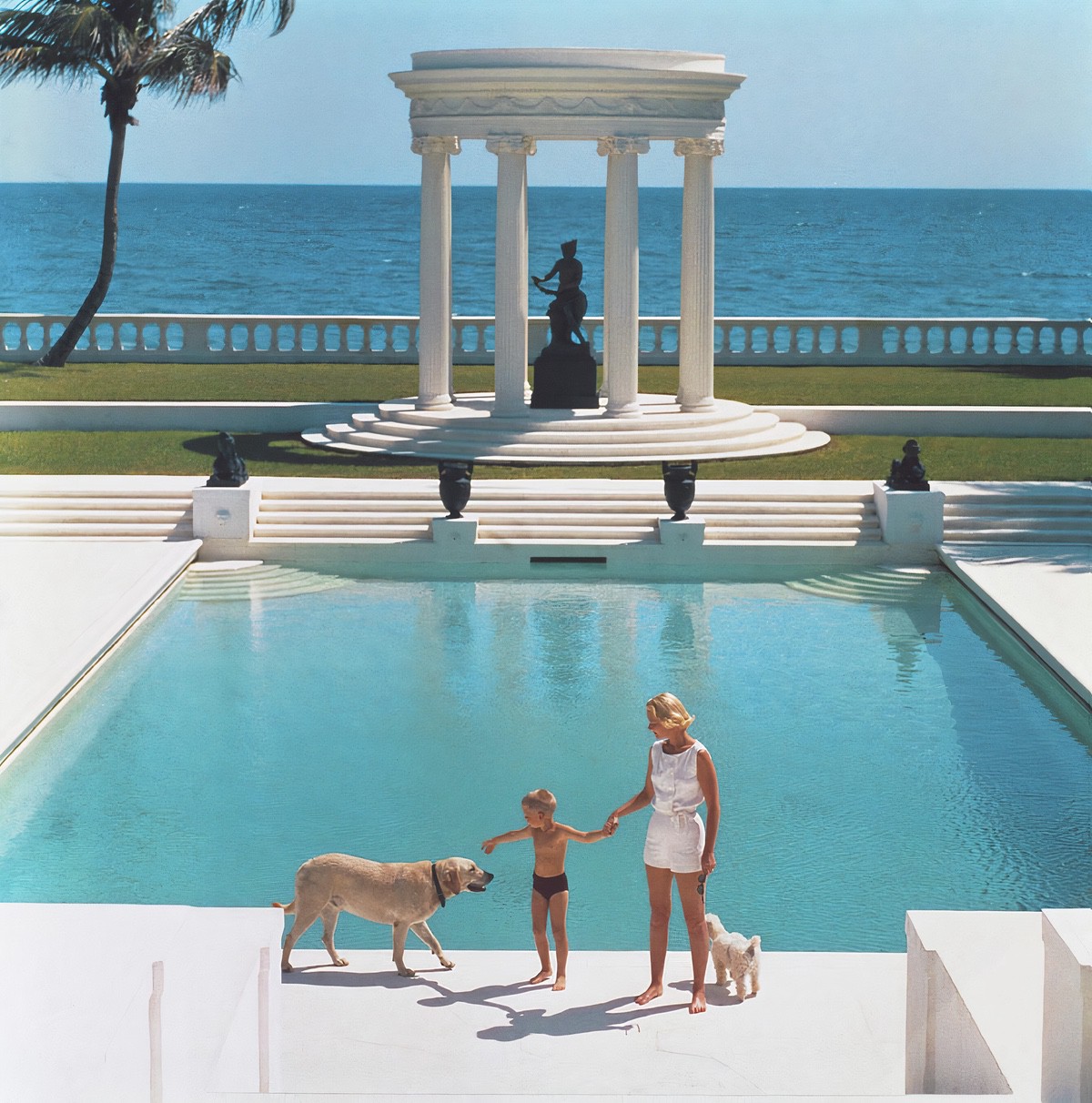 After serving in the army during the Second World War, the photographer Slim Aarons famously declared that the only beaches he was interested in visiting ever again were the ones filled with bathing beauties tanning in the sun. He'd spend the next few decades jet-setting around Capri and the French Riviera, photographing those beaches: waking at dawn, soaking up the sun, sipping on his signature drink (ginger ale), and making portraits of celebrities and socialites in the process.
Throughout his career, Aarons captured the rich and famous poolside and beachfront, at expensive hotels and luxury resorts, from Newport to Acapulco. His sitters included Audrey Hepburn, Marilyn Monroe, Marlene Dietrich, and Jackie Kennedy, but among the most well-known of his portraits is this one featuring the socialite and style icon C.Z. Guest. Here, she is pictured with her son, then five years old, at the pool at Villa Artemis, her mother-in-law's oceanfront estate in Palm Beach.
Today, you can purchase prints and posters of this picture and dozens more by Aarons through Fine Art America, the art marketplace offering affordable, museum-quality prints to everyone from established collectors to newbie enthusiasts. To get into the summer spirit, we curated this group show of vintage images from Fine Art America, each with its own unique story.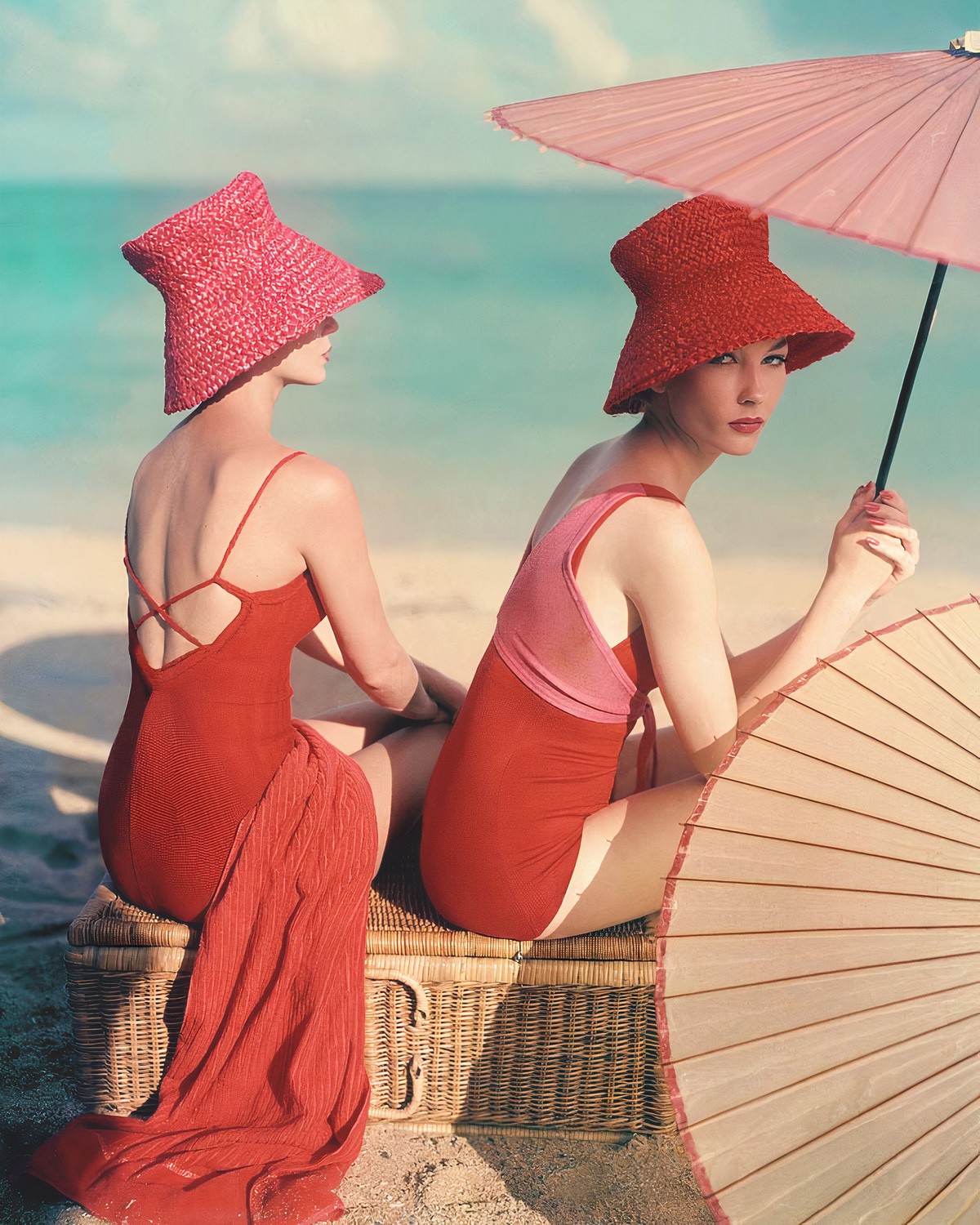 This photo by Louise Dahl-Wolfe, captured at The Dorado Beach Hotel in Puerto Rico, appeared in Vogue magazine in 1959. Dahl-Wolfe, one of the leading fashion photographers of the day, was known for her use of vibrant colors and sunny outdoor locales. Now considered an early pioneer of "The Female Gaze," she embraced a new view of empowered and liberated femininity for the postwar era.
Dahl-Wolfe's women, decked in comfortable, wearable clothing, were active and independent; they traveled and lounged on beaches around the globe. Rumor has it she discovered a teenaged Lauren Bacall, and she'd photograph many of the era's most prominent models. In 1984, she'd tell The New York Times, "The first model that ever inspired me was Liz Gibbons, this long, long girl whose skin was almost gold." Gold–the color of sunlight on sand–remained one of her favorites throughout the years.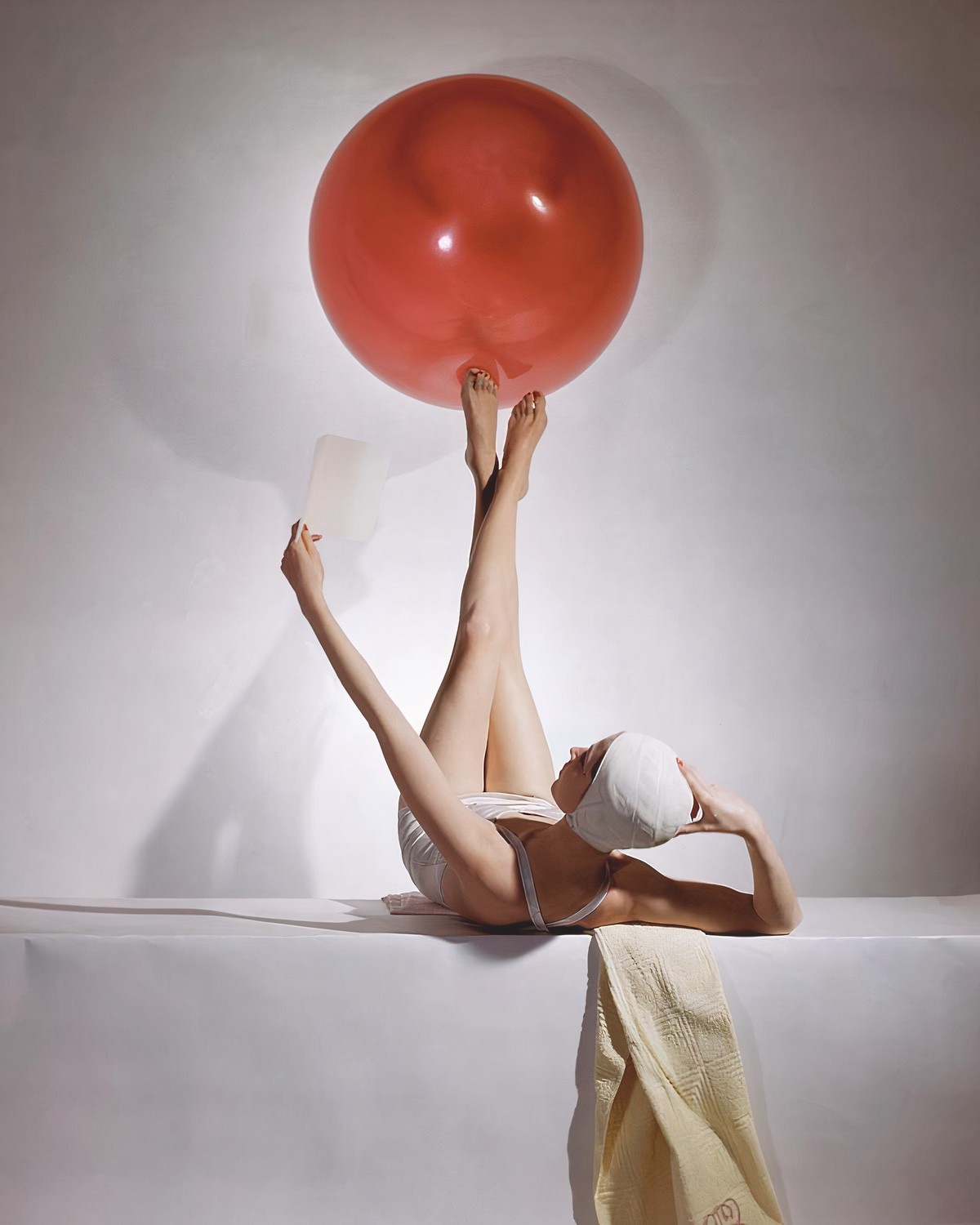 During the 1940s and 1950s, Dahl-Wolfe and other pioneering photographers of that generation, including Martin Munkasci and George Hoyningen-Huene, were friends, and they'd meet up regularly for pizza. Part of that friend group, of course, was Horst P. Horst, who helped define the early days of eye-popping color photography at Vogue.
By the '40s, Horst was working at the Condé Nast studio on New York's Lexington Avenue, where he had access to an array of lighting and propping choices. He preferred a studio setting because he had ultimate control over the scene, often elevating the ordinary into the realm of the surreal. Sometimes, he'd spend days perfecting the lighting–floodlights and spotlights–for a single shot. This particular photo appeared on one of the magazine's covers as part of the Summer Beauty Issue in 1941.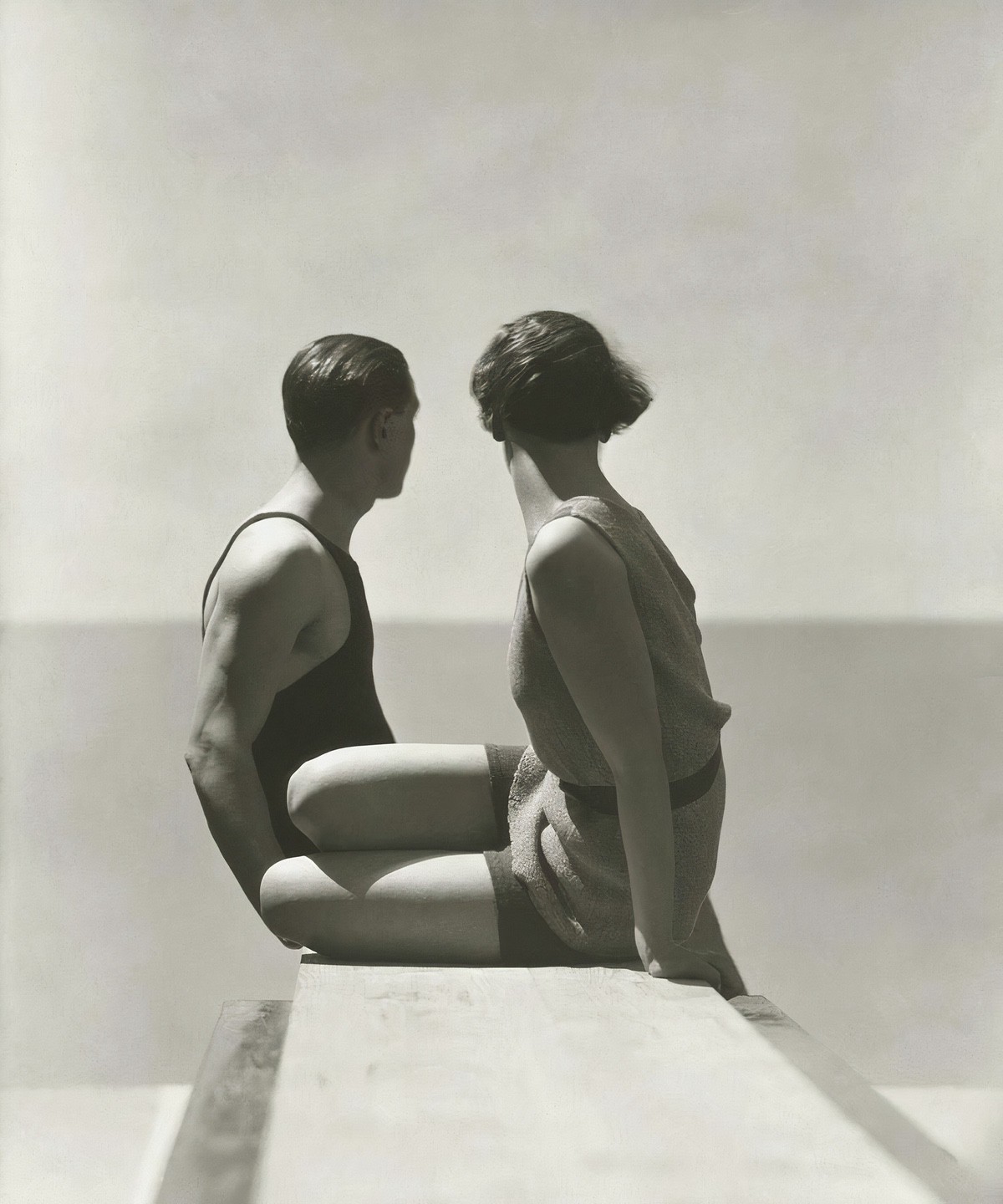 This picture of "divers" decked in Izod bathing suits was created by Horst P. Horst's mentor and partner, the photographer George Hoyningen-Huene of French Vogue. Through Huene, Horst would meet some of the most important luminaries of their time, including Cecil Beaton and Coco Chanel. In the mid-1930s, he would follow Huene in his role as the primary photographer at French Vogue. Years later, Anna Wintour would call The Divers, published in July 1930, one of her favorite photographs from Vogue history.
The male model in the photo has been widely identified as Horst himself, though that's since been contested. The identity of the female model is also somewhat of a mystery, though some believe her to be Lee Miller, herself a legendary photographer. At the risk of interrupting the illusion, the picture was not made on an actual beach; it was created on the roof of the studio at Paris Vogue. Below the models, the traffic of the Champs-Elysées continued as usual, while Huene cleverly used the architecture of the space to mimic the horizon line.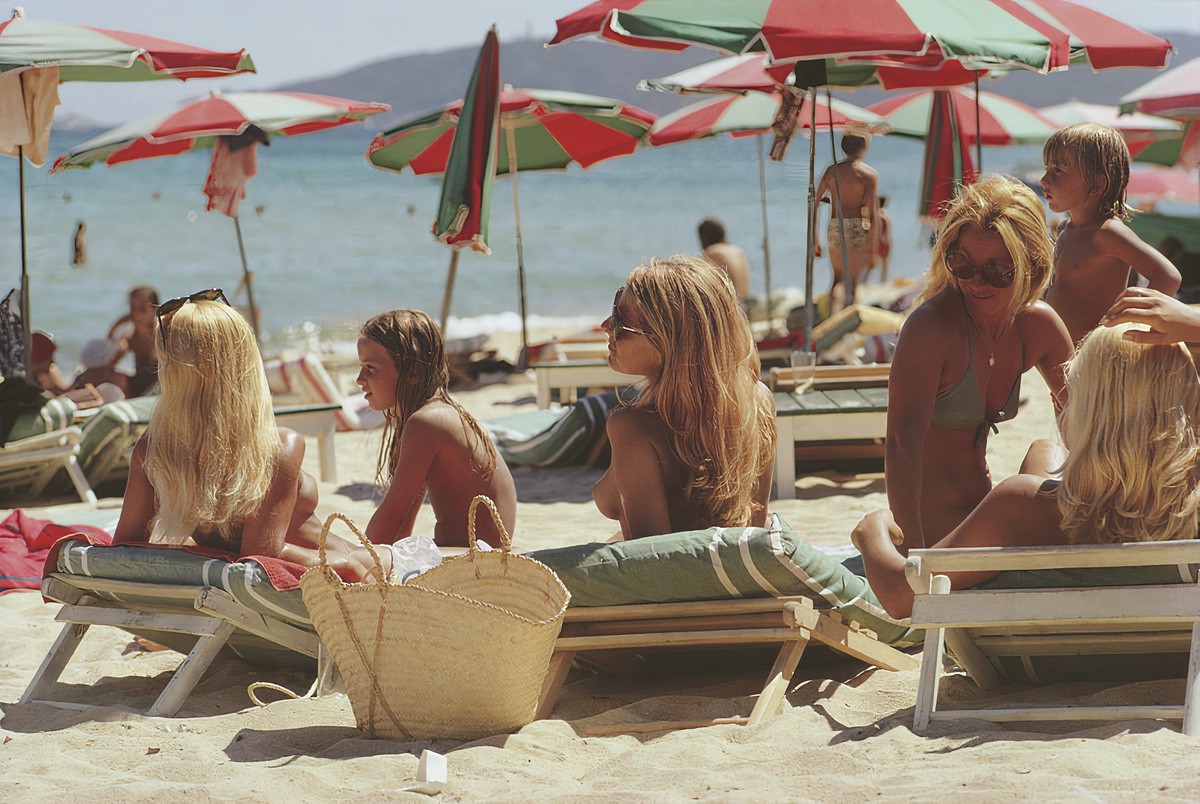 Another selection from the Slim Aarons collection on Fine Art America, this photograph from Saint Tropez in August of 1971 captures what many now consider the "golden age" of the French Riviera, a time shaped, in part, by the freedom brought on by the sexual revolution of the 1960s onward. In his own words, Aarons was a photographer of "attractive people doing attractive things in attractive places"; Saint Tropez, with its jet-setting elite, was a dream location for him. It was an era of elegance and hedonism, speedboats and villas, and lots and lots of sunbathing.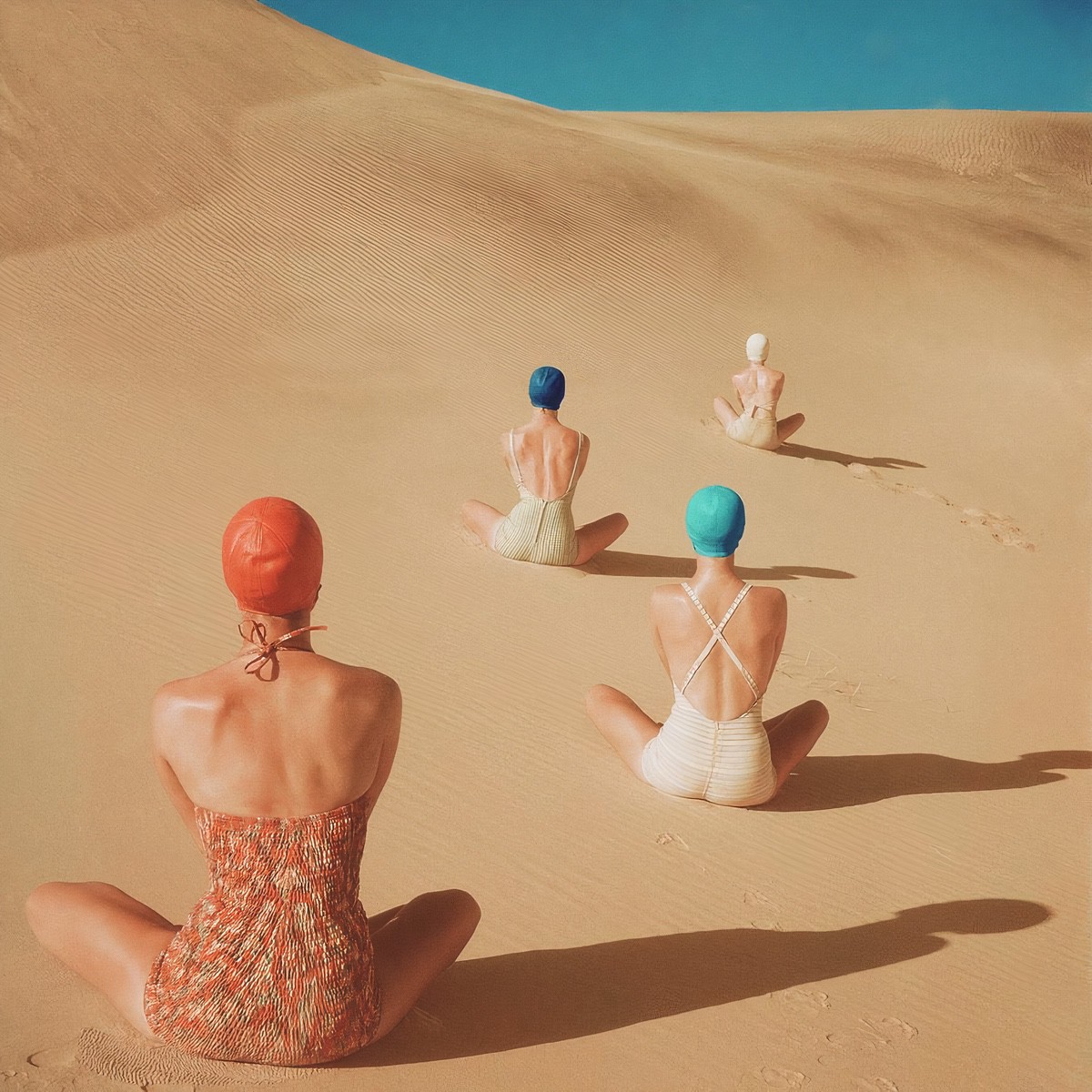 Clifford Coffin, who has since been dubbed Vogue's "lost photographer," made this picture as part of a famous bathing suit spread for the magazine's June 1949 issue. The photography critic Vince Aletti has since compared it to the surrealist paintings of René Magritte and sees it as a precursor to the soon-to-be Pop Art movement. Coffin, who passed away in 1972, also pioneered the ring flash, a tool that would play a significant role in fashion photography for years to come.
Sadly, many of his photographs were lost in the 1960s during a fire in his New York studio. Much of his work (prints and negatives) were unearthed once more at Vogue in 1986–they remain a timeless reminder of a short but prolific career. In this one, made in the California sand dunes, the four models are wearing bathing suits by Cole of California, Mabs, Caltex, and Catalina.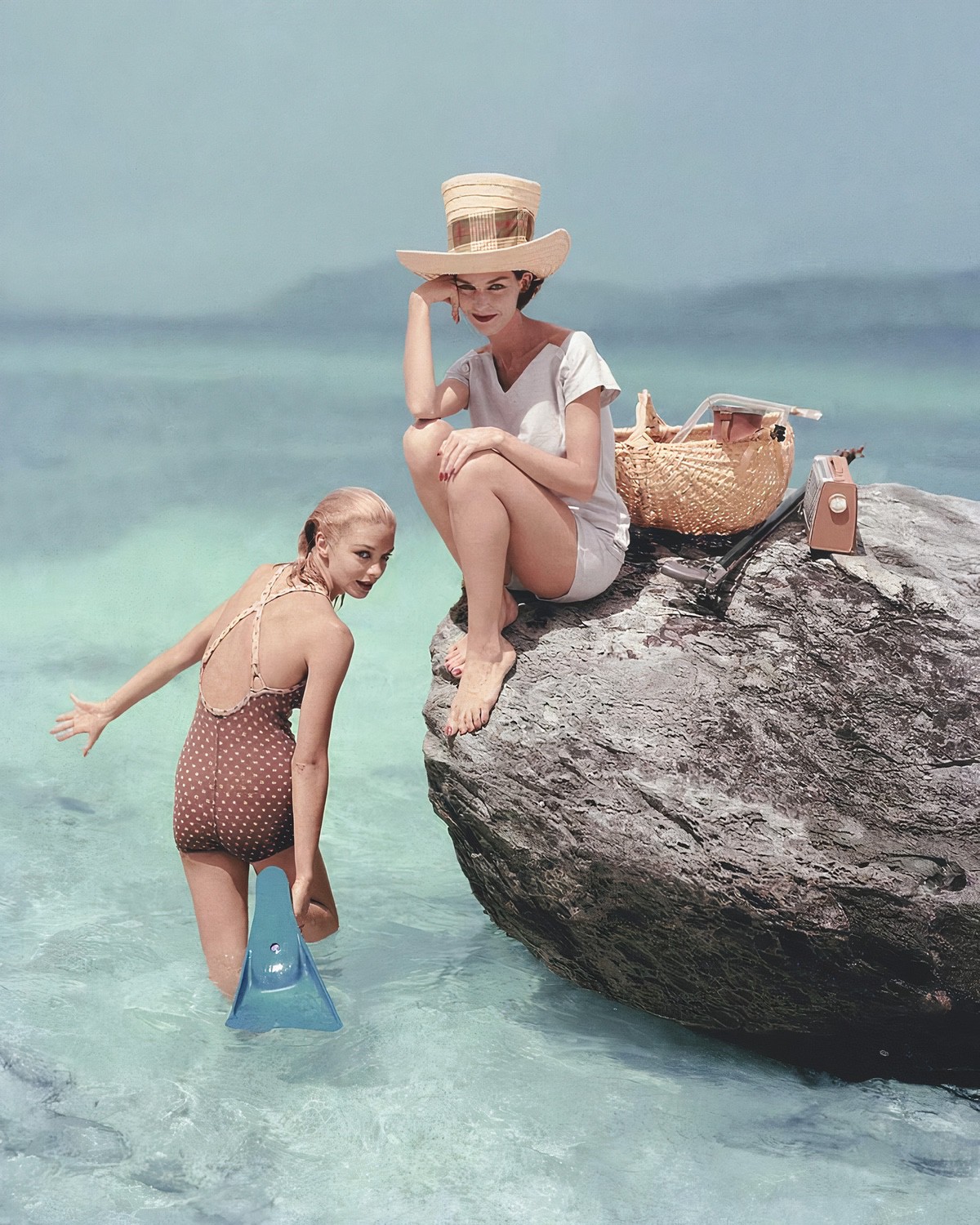 Clothing by Cole of California makes another appearance in this photo, created by Richard Rutledge for a 1957 issue of Vogue. The brand, founded by Fred Cole in 1925, helped revolutionize swimwear during this decade, as women started showing more skin and embracing the suntan trend. Cole is rumored to have introduced cotton swimsuits in the mid-1930s; decades later, he would collaborate with Chris­tian Dior on a collection.
Anne Cole, Fred's daughter, would become a swimsuit designer herself, tracking the trends that defined a generation of women's beachside fashion. The industry would continue to evolve, and some swimsuits caused quite a stir. "When we first uncovered navels, people were so shocked that we had to airbrush them out of our ads," she'd tell The Baltimore Sun in 1992.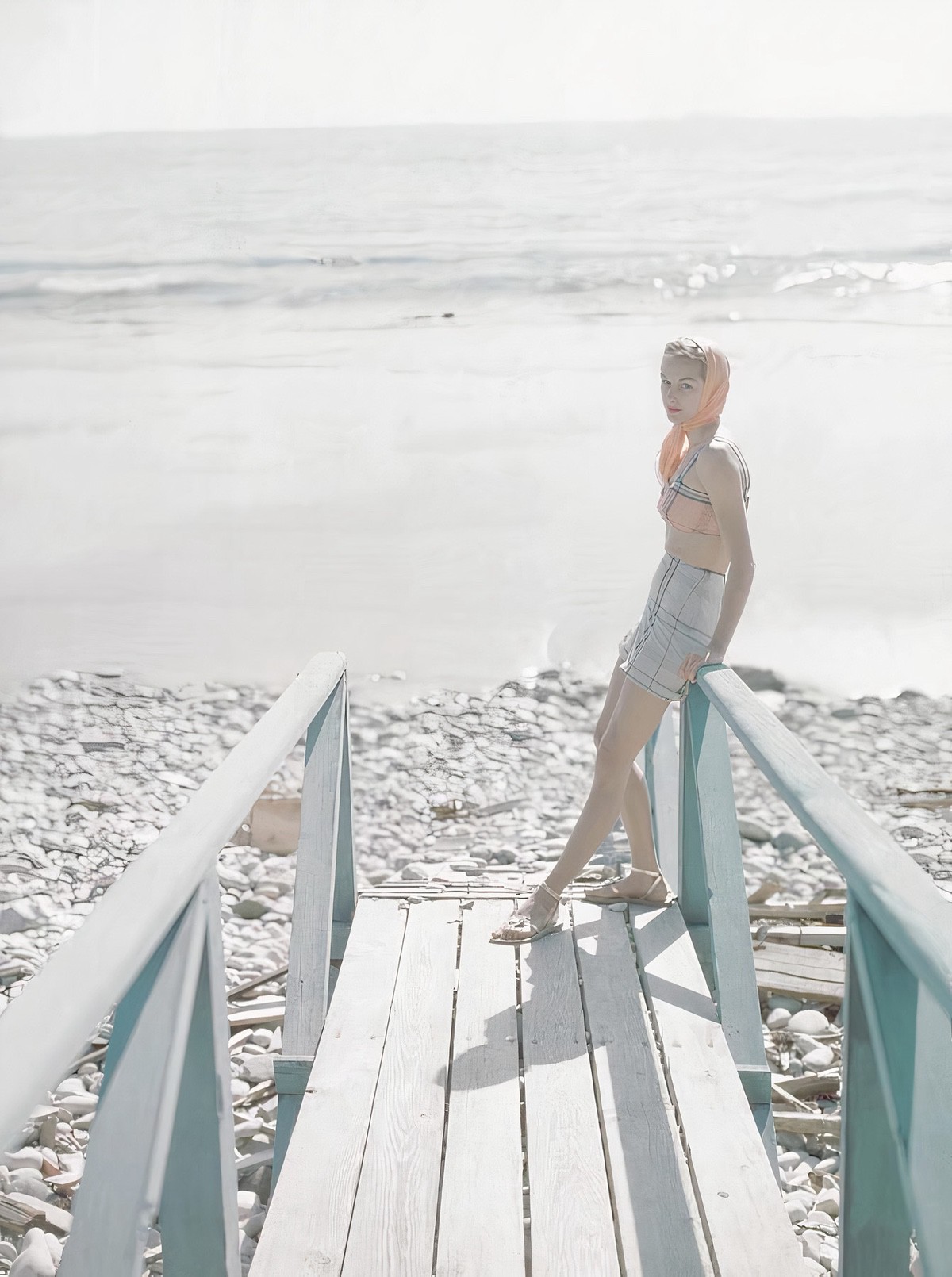 This picture by the photographer (and famed costume designer) Cecil Beaton appeared in Vogue in 1948. Beaton, who got his start photographing his sisters, defied categorization. He was a favorite of the British royal family, but he also documented the war and met survivors of the Blitz. Throughout his life, however, Beaton's passion for style and flair was a constant. In addition to photographing models and Hollywood starlets for Vanity Fair and Vogue, Beaton himself was a fashion icon, known for his Savile Row suits. "Perhaps the world's second-worst crime is boredom," he was fond of saying. "The first is being a bore."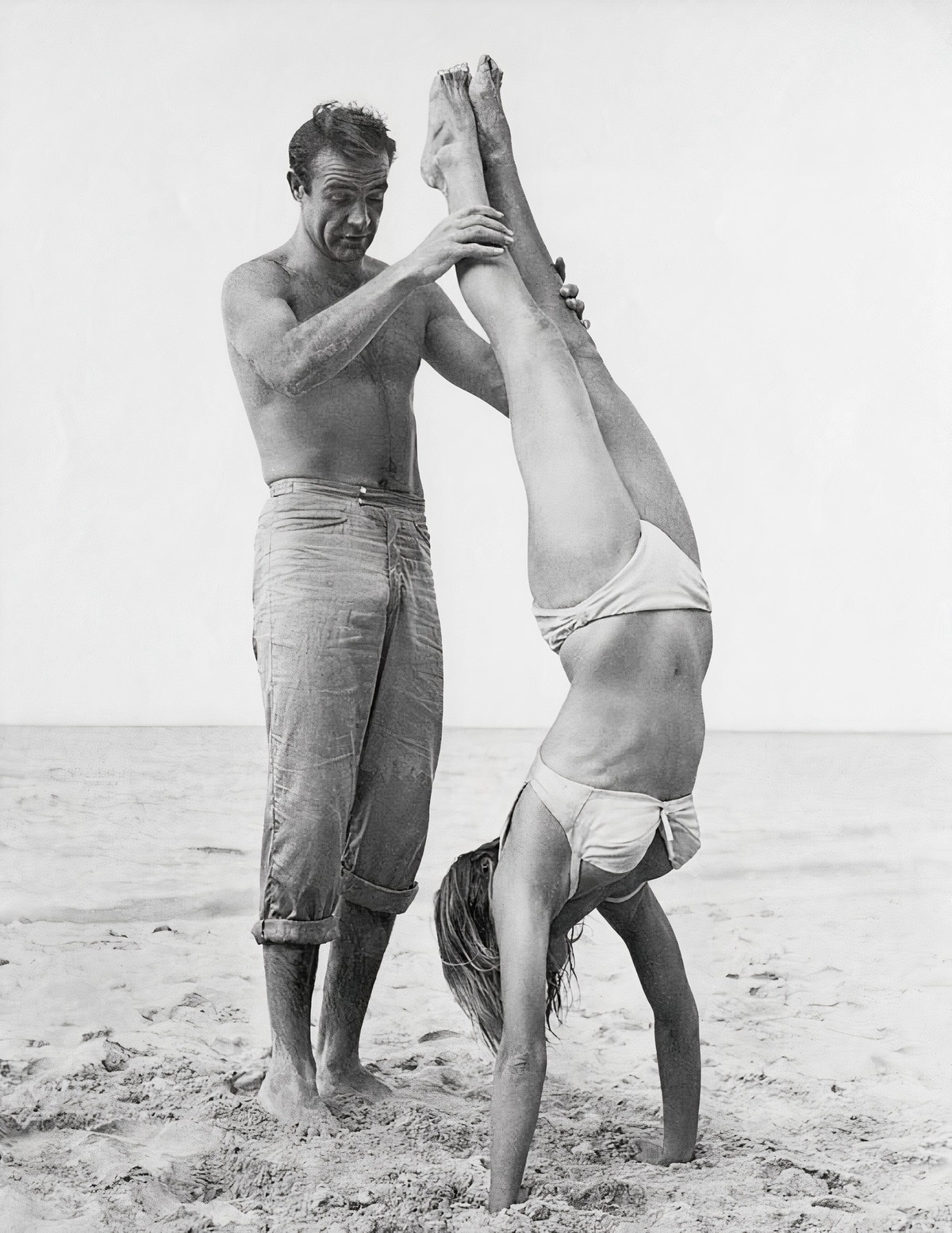 In 1962, Sean Connery and Ursula Andress starred as James Bond and Honey Ryder in Dr. No, Connery's first film as 007. If you've seen the movie, you know the now-iconic moment where Andress emerges from the water and onto the beach, holding a shell. In this photo, you can see the two actors practicing handstands on set. "He was a great man […] a great friend and a fabulous actor," Andress would remember after Connery's passing in 2020.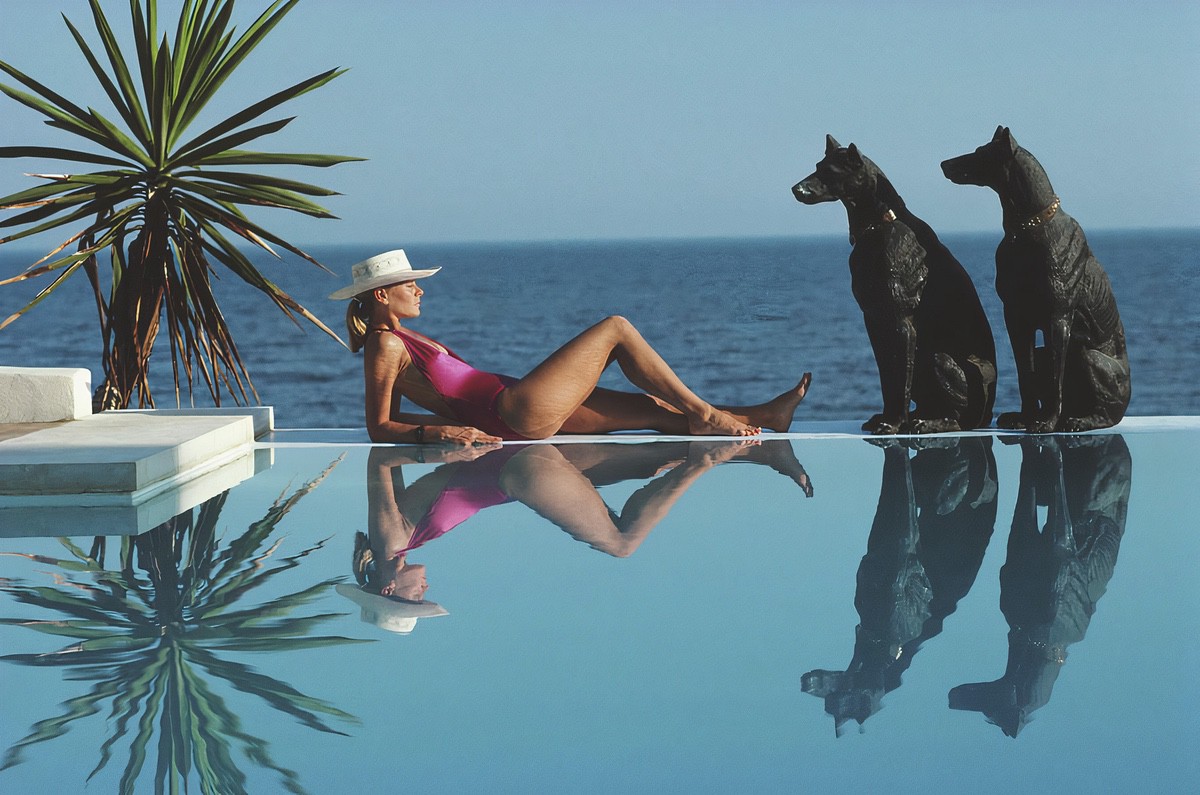 To round out our collection, here's another photo from Slim Aarons, this time chosen for the woman in the frame: Laura Hawk, who worked for Aarons beginning in 1981, when she was twenty-five years old. As part of her 2016 book, Slim Aarons: Women, she would later recall their first interview, in which Aarons asked her, "Can you be ready to leave with little advance notice?", "Is your passport in order?", and perhaps most tellingly, "Can you stand the sun?"
Over the course of more than ten years working with Aarons, Hawk would travel upwards of 400,000 miles with him, wearing many hats, from stylist to muse. Aarons captured this photo of his longtime assistant and all-around problem solver, whom he nicknamed "Old Bean," while visiting the villa El Rincón, belonging to Baron Hubert von Pantz and Baroness Terry von Pantz, in Marbella, Spain.
Each of these pictures captures the spirit of summertime through the eyes of a legendary 20th-century photographer, and they're available now, ready to hang, through the Condé Nast and Getty Images collections on Fine Art America. You can purchase them as prints, posters, canvas prints, metal prints, acrylic prints, or wood prints, and you can choose your frame as well. In today's busy world, these fine art prints offer a nostalgic escape from daily chores and responsibilities–transporting us, if only for a moment, to the sandy beaches of Saint Tropez or the luxury estates of Palm Beach.





Discover More