Why economists love(d) Twitter
Bloomberg Businessweek

<

noreply@mail.bloombergbusiness.com

>

Anular subscrição
Desativar para mensagens em: inglês
Twitter, the place for "main characters" and meme wars, has also been economists' go-to spot for public debate for more than a decade. From dawn till dusk, academics, economists and former government officials discuss subjects that span from current account balances to reverse repo operations. Unlike other streams on the social media giant, debate on #econtwit or #fintwit has been considered relatively civil.
Twitter transformed economic debate by introducing a real-time and very public dimension to discussions that were once the preserve of policy wonks or the business pages of newspapers. The plus side was that obtuse subject matter became more widely accessible. The negative was a lot of noise. Donald Trump routinely roiled global markets during his presidency when he used the blue bird app to think out loud about imposing tariffs on Chinese goods—lighting up smartphones around the world with trade policy talk. Lawmakers everywhere seek to get ahead of legacy media by using Twitter to sell their policies to the public, and academics use it to draw attention to their research.
Now Twitter is in tumult and one of the less well-reported effects of Elon Musk's chaotic reign as its owner is that economists are asking whether they need to move their musings to somewhere else.
"Twitter has increasingly become a debate stage versus a conversational platform, and that was always baked into it, but it's gotten worse," says Kyla Scanlon, an economist (and Bloomberg Opinion contributor) who has almost 155,000 followers. "Now the debates are people just screaming at each other. I still value the platform as a place to research and gather ideas, but the incentives are tilted toward wreckage rather than longevity."
Danielle DiMartino Booth, chief executive officer and chief strategist at Quill Intelligence, is closely watching the Twitter spiral. With almost 267,000 followers, she has noticed a change in tone with more division and trenchant views—if not abuse—than ever before.
"I am speaking about pure data, whether it is the Federal Reserve's discount window and, oh my gosh, everything is quantitative easing, 'It's QE, it's QE, it's QE,' and you are like, well, no it's not technically and even if you provide research to qualify they are dead set in their views," DiMartino Booth says.
She recently opted to distribute research via the Substack platform, but the former Federal Reserve Bank of Dallas adviser also paid up for the Twitter Blue service in order to maintain her account verification.
"I have always had my blue check," she said. "But I don't treat other people's blue checkmark the way I once did given it is now something you can purchase."
Like others, economists are irked that Twitter has removed legacy verification marks from users after Musk made to blue checkmarks part of an $8-a-month subscription service. That and other changes to verification requirements have been met by users' widespread criticism.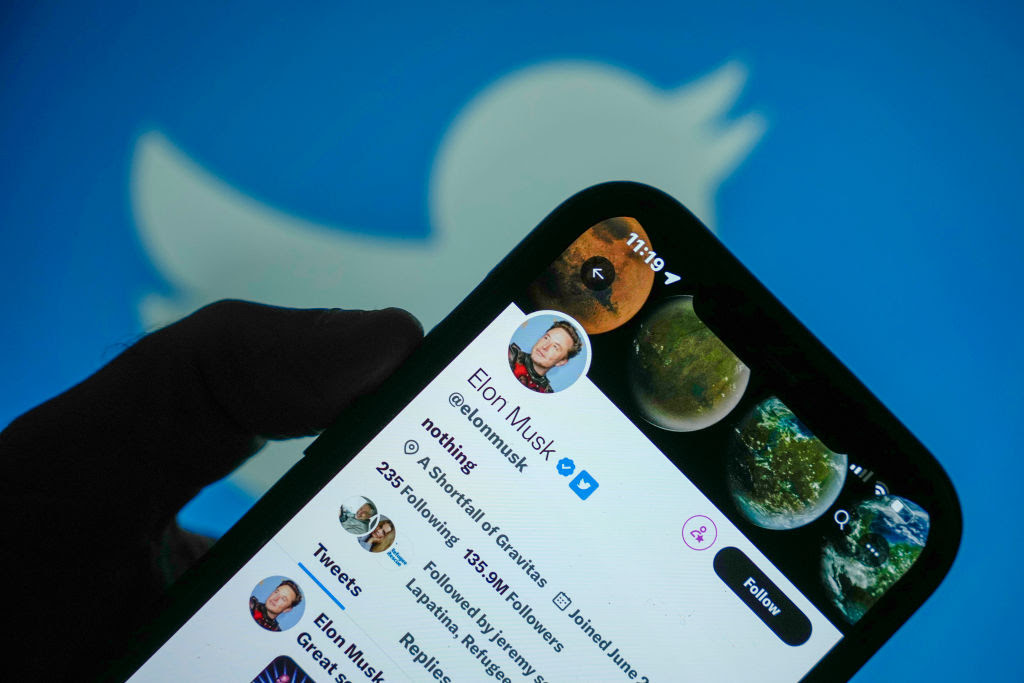 The blue check. Photo illustration: Christopher Furlong/Getty Images Europe
"I deeply resent being threatened with the loss of two factor authentication, and that has shaped my views of other products offered by Mr. Musk's other companies," says Brad Setser, a senior fellow at the Council on Foreign Relations, a New York-based think tank. Still, Setser, who's known for thrashing out Sri Lanka's debt structure or the negative net foreign exchange reserves of Turkey's central bank, is sticking around for his 73,000 followers.
"Inertia is a powerful factor," he says.
Even without the recent chaos, experts complain that Twitter's features haven't kept up with other apps like TikTok. Hao Hong, the Hong Kong-based chief economist at Grow Investment Group, finds Twitter's video options especially limited for engaging with his almost 200,000 followers.
"People don't read as much these days," Hao says. "Its video function is very limited. You can only upload 10 minutes of video even if you pay."
But Hao, who once had his Chinese social media accounts suspended for unspecified violations (red lines in China can include economic commentary), plans to keep tweeting.
"It's still one of my primary sources of information," he says.
Several sites have presented themselves as alternative to Twitter, and the Jack Dorsey-backed app Bluesky is gaining some traction, but the absence of a clear-cut winner is keeping economists and their followers hooked to their legacy accounts. Michael Pettis, a finance professor at Peking University and a veteran China watcher, is among those planning to stick around.
"If there are no major changes that make using it less convenient," he says, "I expect Twitter will be important for many more years." —Enda Curran, Bloomberg reporter