How Op Artists of the 1960s Created Their Hallucinatory Effects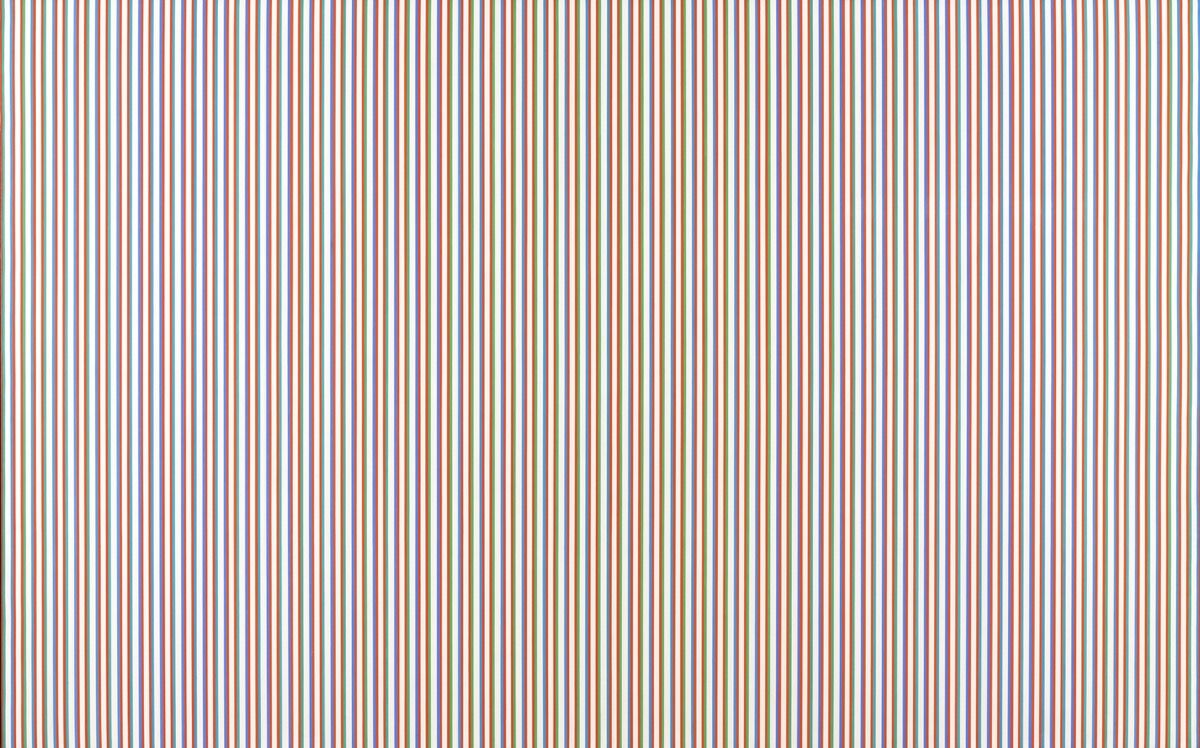 Bridget Riley, Late Morning, 1967-8. © Bridget Riley 2018. Courtesy of Tate Liverpool.
By featuring artworks by American artists like
Frank Stella
,
catalogue
, "the establishment of abstract painting has made it permissible for color, tone, line, and shape to operate autonomously." In other words, Op art developed from Impressionist ideas and abstract techniques.
Albers's experiments and writings on color theory offered another source of inspiration for Op artists. The nested squares of varying hues featured in his own works propose that color is always relative: We perceive a color differently depending on the other colors and shapes that surround it.
In 2016, New York's
El Museo del Barrio
offered a counterpoint to "The Responsive Eye," highlighting Latin American artists' roles in Op art. The exhibition, entitled "The Illusive Eye: An International Inquiry on Kinetic and Op Art," included work by
review
of the show for the
New York Times
, Ken Johnson underscored how midcentury critics such as Clement Greenberg had dismissed Op art as gimmicky. El Museo del Barrio instead attempted to elevate the movement by linking it to mysticism and more erudite concepts.
This past July,
Tate Liverpool
opened "Op Art in Focus," an exhibition spanning the 1960s to today (it's on view through June 16, 2019). "To me," said curator Darren Pih, "it is a movement that speaks to a more technologically connected world, when technology and art were being fused to create new ways of seeing."
Indeed, questions about how we see and what tools can help us see better extended across disciplines. In 1960 alone, American scientist Theodore Maiman created the first laser, while Eleanor J. Gibson and R.D. Walk developed the "visual cliff" study, which tested how infants perceive visual depth.
In an exhibition of 26 works, Pih has included eight by Riley. They range from energetic, buzzing screen prints of zigzagging, black-and-white lines (Untitled [Fragment 1/7] and Untitled [Fragment 3/11], both 1965, for instance) to Late Morning (1967–68), a painting comprised of colorful, vertical lines on canvas. "Her work is immediately recognizable and somehow symptomatic of the technologically-enabled acceleration associated with the 1960s," said Pih (indeed, Late Morning recalls the static of a television screen). "Yet her work is also rooted in art history and in early movements such as
Pih also connected Riley to
Yet Op art is very much a product of the 1960s. The bright, graphic colors and shapes recall the day's mod fashion styles. And the movement's concerns with perception interacted with the decade's mind-altering drugs of choice: LSD and mescaline could literally change the way that people saw and experienced shapes and colors.
Damien Hirst, Anthraquinone-1-Diazonium Chloride, 1994. © Damien Hirst and Science Ltd. / DACS 2018. Photo by Prudence Cuming Associates Ltd. Courtesy of Tate Liverpool.
Alina Cohen is a Staff Writer at Artsy.
Discover
The Van Cleef & Arpels Frivole Collection