Wuzhen Is the Chinese Art Hub You've Never Heard Of
Best known for its cobbled streets, quaint bridges, and oodles of old-world charm, Chinese water town Wuzhen is confidently carving a niche in contemporary art.
One of several water towns in eastern China to be dubbed the "Venice of the East," Wuzhen lacks its European namesake's international standing when it comes contemporary art—and that of its nearby Shanghai, too. However, the Wuzhen International Contemporary Art Exhibition, featuring a who's who of artists, curators, and advisers, is set to put the picturesque town firmly on the map. Titled "Utopia/Heterotopia," the debut edition of the multi-site exhibition is the latest in a string of initiatives expanding Wuzhen's reputation from a locale for selfie-stick-wielding throngs to soak up its undeniable charm to a place primed for a very different sort of cultural tourism. Located some 130 kilometers southwest of Shanghai—a distance quickly covered by high-speed train—the town could become a new arts hub for China.
Wuzhen's transformation is the brainchild of one Chen Xianghong. The president of private entity Wuzhen Tourism Co., Ltd., and chairman of Culture Wuzhen Co., Ltd., Chen has been steadily revamping and repositioning his 1,300-year-old home town since taking up a post as director of the city's tourism development committee in 1999. Cultural preservation has been at the forefront of Chen's activities. This being China, "preservation" means that many of the apparently ramshackle wooden and stone structures that lend the place its appeal are reconstructions, crafted from reclaimed historical materials. Other changes have been more practical in orientation, such as the quaint open-sided buses, which shuttle tourists around a ring road to their respective hotels. Until recently, those busloads of visitors were likely to take a boat through the winding network of waterways, admire arched stone bridges, stock up on locally-woven silk, and perhaps sample a bowl or two of steaming yang rou mian (lamb noodles).
All that changed in 2013 with the launch of Wuzhen Theater Festival. The festival is housed inside a specially commissioned, twin lotus-shaped building by Taiwanese architect Kris Yao, as well as several restored "ancient theaters" throughout the town. Wowing its initially skeptical audiences, the first edition was overseen by celebrated playwright and director Stan Lai. Last year's honorary president was none other than Tony Award-winning theatre director Peter Brook. In the same year, Wuzhen upped the ante further still with the grand opening of Mu Xin Art Museum, dedicated to the late local artist, poet, and writer. Housed inside yet another striking contemporary structure—this time by Hiroshi Okamoto and Bing Lin of OLI Architecture—it lent further credibility to Wuzhen's cultural transformation.
Cementing Wuzhen's identity as a town where ancient and modern comfortably coexist is "Utopia/Heterotopia," which opened last month and remains on display through the end of June. The exhibition comprises works by dozens of international artists, curated by a team led by Feng Boyi alongside an advisory committee featuring some very big names indeed, the likes of Hou Hanru (artistic director, MAXXI, Rome), Uli Sigg (collector and M+ museum benefactor, Hong Kong) and Philip Tinari (director,
Ullens Center for Contemporary Art
, Beijing) among them.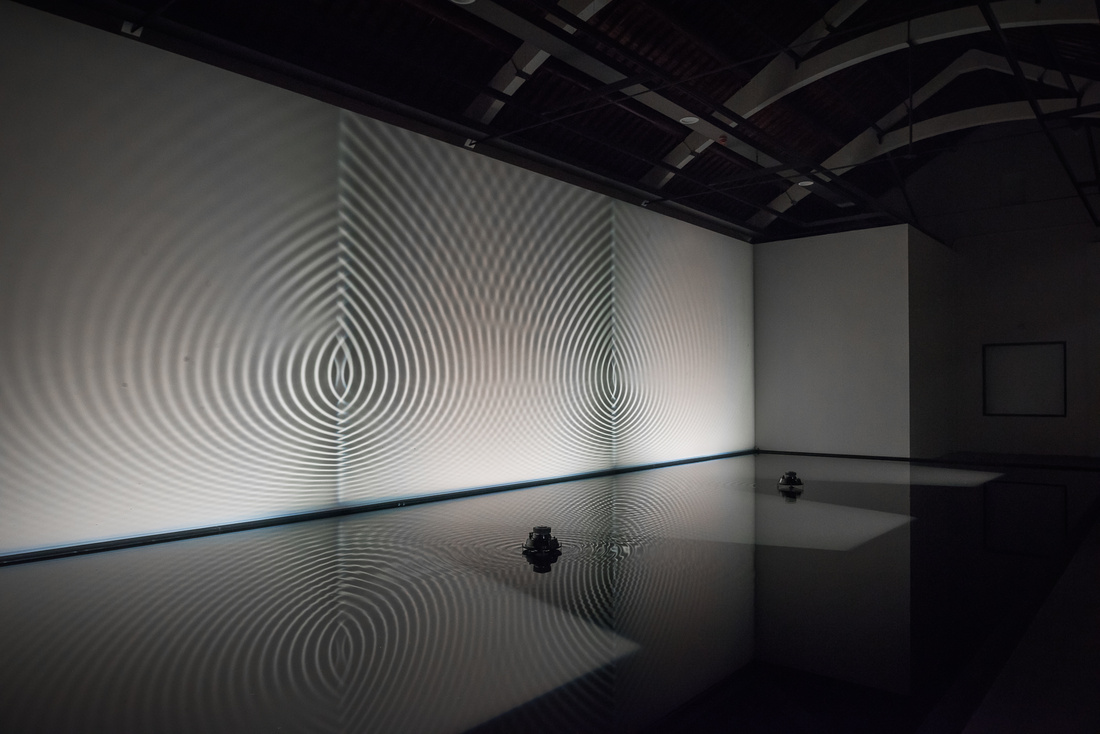 The multi-site show's main exhibition is housed inside North Silk Factory, a series of repurposed industrial spaces beautifully converted to showcase both an original pitched wooden ceiling and a darling courtyard at its heart. Inside are new works created especially for the exhibition, as well as previously-exhibited showstoppers by artists including
Bill Viola
,
Ai Weiwei
,
Xu Bing
, and
Marina Abramović
. Of the commissioned pieces, Finnbogi Pétursson's
Infra - Supra
(2014) is particularly striking. Vibrations from three deeply pulsating speakers positioned above a pool of water are made visible through cleverly positioned spotlights to create wave after hypnotic wave. In a town with this much water, the installation feels particularly apt. Another site-specific work comes courtesy of
Oliver Herring
. Given run of North Silk Factory's construction site last winter, performance piece
Areas for Action: Wuzhen
(2015) is archived in film, photography, glitter, and paint to gloriously messy effect, with bemused-looking bystanders—construction workers, cleaners, and more—underscoring the initiative's community bent.
A short walk away and inside the town proper, seven works sit alongside traditional noodle shops and cobbled streets. Stealing the show is Florentijn Hofman's spectacular
Floating Fish
(2016). Already well-known in China thanks to the blockbuster tour of his
Rubber Duck
, Hofman's Wuzhen intervention is topical, bright pink, and drawing crowds. More subdued but no less striking is
Ann Hamilton
's site-specific
Again, Still, Yet
. Housed inside one of those restored ancient theaters, the work nods to Wuzhen's tradition of silk production and sees a weaver at her loom on the historic stage, its spools of red thread stretched taut like lasers to each and every of the venue's seats, all to the tinkle of tiny bells as the silk worker maneuvers her apparatus.
In Wuzhen, it's not just the caliber of artists, artworks, and curation that turns heads, but also the quality of their installation. More refreshing still is the price: tickets to the North Silk Factory exhibition cost an eminently affordable 25rmb (around US$4), while day passes to the town itself are 120rmb. In the context of private museum exhibitions in China's more expected art hubs, which are beyond the financial means of many, it's a steal that lends credibility to Chen's commitment to serving the community he calls home.
Ambitious, far-reaching, and truly international, Wuzhen International Contemporary Art Exhibition adds yet another dimension to the town. Doubtless, guide books will still attach the by-now cliché "Venice of the East" moniker for all the wrong reasons—but it's one that this picturesque locale seems set to fast grow into.


—Frances Arnold


Subscribe to the Artsy editorial newsletter